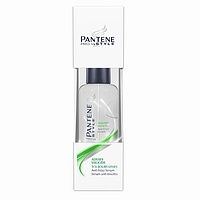 I didn't think I needed to try Pantene Pro-V's Anti-Frizz Serum at first, because my hair doesn't tend to frizz. However, I do frequently accost it with a blow dryer and straightener, so after letting the bottle sit unobtrusively on my makeup table for a couple of days, I decided to dig in. Well, squirt a few drops in my hand and run it through my hair, that is. Annnnd, I was immediately in love. It's that good. Even while my hair was wet, I could already see that it looked shinier and feel that it was softer. I'm not kidding-this stuff works FAST!
Whether I let my hair air-dry or abuse it with hot tools, it winds up silky and manageable. It also really helps to smooth out my bangs when they rebel against the flat iron. Even my boyfriend has noticed the difference; you know that means it's good.
This magic Serum retails for $6.49, and you can find it at local drugstores/supermarkets or on Drugstore.com. If you have a serious problem with The Frizz, I'd suggest you also check out Pantene's Smooth Shampoo & Conditioner, which retail for $3.99 a bottle.