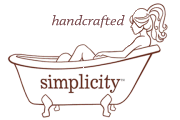 Well, ladies, Earth Week might be over-but I'm totally not dropping the eco-friendly theme! While researching companies and products that I wanted to put up for the theme, I found a ton of great products I want to share with you! First up is my new dream team: the products I've been testing from Simplicity Bath & Body.
Since I don't have a bath (or much of a shower, really), my product selections had to be very limited. I'm totally bummed about this, because I love the items I reviewed so much that I really want to try some more! Oh well-you guys will have to try 'em out and tell me what you think! What am I talking about? Well, the luxurious looking Bath Tea, for one! Hellooooo, Mother's Day idea! There's also a selection of Bath Salts and Bath Fizzies that are making me drool. If you're shower's completely stocked up (which is so not a good enough reason to check these babies out), take a look at the luxurious Cocoa Foot Soak (again, Mother's Day!)
Moving on… Before I tell you about the awesome products I DID try, I just want to tell you a little bit about the company. No epics, I promise! Basically, Simplicity Bath & Body rocks because all of the products are handcrafted from super high quality natural and/or organic ingredients. Their products are made in the USA and never tested on animals. What more could you ask for, right? You can check out the list of key product ingredients here; Avocado Butter, Mango Butter, and Pink Roses are just some of the highligh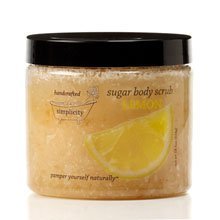 ts!
Okay, okay, here's what you've been waiting for. Product info! This Lemon Sugar Body Scrub has earned a permanent place of honor in my shower-it's that good. When I unscrewed the lid I was greeted with a REAL lemon scent, none of that fake crap you get when you buy your body treats at Wal*Mart. It actually made my mouth water; had I not been in the shower I probably would have started looking for a way to MacGuyver some lemonade!
After I was done with my other shower essentials (always wash your body last or else shampoo/conditioner/etc residue can wind up staying on your skin), I scooped out a handful of this stuff and began massaging into my skin. Heavenly! The sugar granules gently buffed away at dry, rough patches on my upper arms, while the oil luxuriously soaked into my skin. By the time I was out of the shower my skin was seriously softer and had a noticeable glow. The results definitely weren't short lived, either… My skin still feels totally pampered! Oh and if lemon's not your thing, don't worry; the sugar scrub is also available in: lavender, pink grapefruit (I almost got this one!), rose petal, sweet mint, and vanilla bean. Each 18.5 oz tub is on sale for $28.80; they can be found here.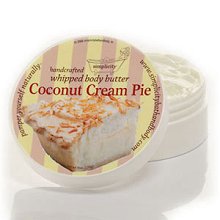 After my shower I was dying for some Coconut Cream Pie-Body Butter, that is! And oh how this lovely little tub hit the spot! Simplicity Bath & Body's Body Butters are thick, rich, and oh-so-creamy. However, they don't leave any greasy residue or unpleasant oiliness on the skin; they just sink in and leave the skin super hydrated. Perfection! Most of the scents are available in a naturally scented or fragrance added version; mine was the natural version and the smell was still heavenly. My boyfriend insists he likes coconut and yet when he took a whiff (I didn't tell him what it was) he liked the fragrance left on my skin.
If you really don't like coconut (and know what it smells like, because he apparently doesn't), don't worry. The naturally scented options: Cucumber Melon, Orange Spongecake, Pear. And those with fragrance added: Cucumber Melon, Blueberry, Orange Spongecake, Pear, Pink Grapefruit, Pomegranate, Vanilla Cupcake. The butters are available in 6 oz tubs and are on sale for $24.00.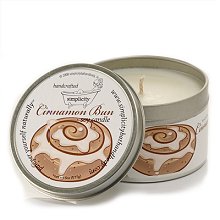 The last product I tried was the Cinnamon Bun scented Soy Candle. I've really been on a candle kick lately, and I think this one is my favorite… Probably because it smells so damn delicious! I don't even like cinnamon buns, but I thought it would be a nice scent for the apartment; turns out I now am having serious bakery cravings (actually, I found the perfect cinnamon bun, but you're going to have to wait for the details a bit longer!). I like that the candle tin comes with a lid for the simple reason that while I was moving, packing candles was a pain in the ass!
These candles are 100% pure soy wax that is made from renewable resources. The wicks are lead free, and the burning is completely non-toxic. Win! You can also pick them up in some surely now familiar scents: Coconut Cream Pie, Cucumber Melon, Hot Cocoa Mint, Jersey Blueberries, Lavender, and Orange Sponge Cake. They're a complete steal at $9.60 per 6 oz tin.
Bottom line: These products are environment friendly, animal friendly, and labor friendly. Equally importantly, they are completely freakin' awesome. Exfoliating is usually something I consider to be a pain the ass, but the Sugar Scrub makes it a really enjoyable process. My recommendation is to score a bagful for yourself, but ALSO to pick out a scent and put together a package for Mom. I'm really interested in how the Orange Spongecake scent smells…
Oh, and want some great deals? Simplicity Bath & Body is running a spring sale, so you'll get 20% off your entire order. If you spend more than $60, your order will ship free. Nice, right? And if you don't have time to put together a themed basket or just want a pro to do it, there are some great gift baskets available…