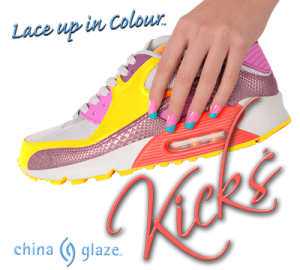 Ready to celebrate summer with all those wild, crazy, fun colors you had to shelve all winter long in order to remain subdued and seasonally appropriate? Me too! And thanks to China Glaze and the new Kicks collection, it's totally easy to add all those super-funky colors back into your routine with splurging on a whole new wardrobe!
The collection is inspired by all you Sneakerheads, who've got all the hottest new shoes before the rest of us have even had time to do a double take. Here are the 12 juiced up shades*…
Sexy, girly, Barbie Pink.
My second fave, the sky blue I'm wearing right now!
The photo washes this cherry pie filling red out just a tiny bit.
I love this ocean-breeze turqouise!
A fresh, juicy tangerine…
This one's a tad more orange in person.
A wonderful grass green; the only one in the collection with a metallic finish.
Like bubblegum right out of the wrapper!
Fresh lime zest; a green like I've never seen!
A totally kick-ass fuschia!
(Laced Up) A fresh from the fair cotton candy pink.
(Style Wars) Just like that first glass of fresh squeezed…
Thanks to The Fashionable Housewife for letting me use her photos; I'm currently sans-camera. Click here to check her post, which includes official shade descriptions and a list of retailers
And dont' forget, China Glaze is Big 3 Chemical Free!
What's your favorite shade?