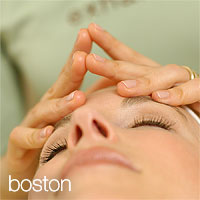 Today, Rue La La has a totally new type of boutique going on!  Exhale Spas in participating cities are actually offering their services at very discounted prices- most packages are about $100 off!  So if you live in or near Boston, Chicago, Dallas, New York, or Santa Monica, go check it out!
If you're not located near any of those hot spots, the boutique is also featuring g.r.n. products- cleansers, masks, shampoos & conditioners, etc.
This is the "product description" that goes along with the photo at left (the whole package only costs $129!):
Fusion massage – 60 minutes
Combining the best of therapeutic massage practices from around the world, this Swedish-based therapy uses specific rhythmic massage movements and potent herbal and aromatherapy oils, which enhance the therapeutic effect.
Choose from an uplifting, detoxifying or relaxing blend.
True facial – 30 minutes
A customized facial appropriate for all skin types, utilizing a layer of exhale's most coveted mushroom enzyme mask.
As always:
RueLaLa is an exclusive, invitation-only online destination connecting consumers to that which only fashion insiders used to be privy to. The site features up to two new private sale boutiques a day, each open for just a brief window of time. Boutiques offer members access to current season merchandise from a mix of fashion and lifestyle brands that range from super premium labels to more mainstream must-haves at discounts of 30% to 80% below retail.
RueLaLa is accessible through membership only. Membership is free but available through invitation-only. To join through The Fashionable Gal, follow these steps:
1. Go to www.ruelala.com
2. Select "A member invited me"
3. Enter this email address as your key to get in: laney@thefashionablegal.com