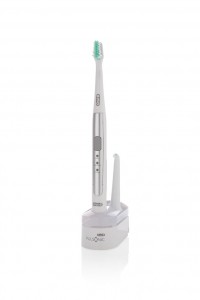 Ohmygod I freaking love this toothbrush.  My teeth have never felt so clean!  Before I got this toothbrush, I felt like I could be in one of those "not so fresh," commercials…  Except for an upper level orifice.  Okay, moving on…
The brush has two settings, one of which is perfect for anyone who has more sensitive teeth or gums, such as myself.  It allows a really refreshing clean without causing all that oh-so-sexy gum bleeding that I know you all enjoy so much.
Also, the Pulsonic times your brushing, ensuring that you keep at it for the recommended two minutes.  It actually beeps/pulsates every 30 seconds, so you can make sure you're brushing each quadrant of your mouth for the correct amount of time.  The first time I used the Pulsonic, I realized I had SO not been brushing my teeth for long enough!  Still longer than the boyfriend's 10 second swipe 'n' go, but not the full two minutes, either.
The brush is also really light and slim, which is a great change from the bulky vibrating brushes I've used before.  The handle is actually like half the size of my previous brush!  The charger is also really slim, so it doesn't take up  a lot of precious  counter space.  I  have none so mine stays in the kitchen,  but  it's not taking up any extra room there, either!  The charger also has room for the precision head and another regular head-so if you want to share with your significant other, you can buy a second brush head and then just switch them!  Here are some other highlights…
FEATURES
Thin Precision bristles: Promote naturally whiter teeth by gently polishing off surface stains
Sonic technology: With more than 27,000 vibrations per minute to drive them, Pulsonic's bristles clean and promote naturally whiter teeth
Professional timer: Subtle two-minute timer with 30-second intervals makes it easy to track how long you've been brushing each quadrant of your mouth and helps you reach the dental expert-recommended brushing time


Two customized brushing modes

Clean: Provides effective plaque removal and cleaning of your teeth
Sensitive: Offers gentle care of your gums and other sensitive areas


Exclusive custom brush head design

Pulsonic Brush Head: Contours your teeth to provide an effective clean while remaining gentle on teeth and gums
Precision Tip Brush Head: Cleans between teeth in hard-to-reach areas—where stains start—and is also ideal for cleaning around dental work with its Interspace® design
Rechargeable: No need to replace batteries
DETAILS
Includes:*One brush head (Oral-B Pulsonic , Oral-B Precision Tip)
Charger with stand
One rechargeable battery
I think this would be a really cool idea for Mother's Day!  I know that my mom never really buys herself anything fancy, so I really like to get her pampering products.  A toothbrush might not seem like the best gift idea, but think about it…  You know she's probably not going to buy this for herself, but it's something she'll love and use every day.  I think it makes perfect sense!
You can purchase your own Oral-B Pulsonic from a whole slew of retailers, including Best Buy, Walgreens, CVS, etc.  I prefer to buy online, and so can you!  Amazon and Drugstore.com (those links will take you directly to the product listing, not just the main page) both offer the Pulsonic  If you're thinking the $69.99 price tag (although it's less at Amazon & Drugstore.com) is expensive, just consider it an investment in your teeth.  Better oral hygiene will mean less trips to the dentist, which are definitely more expensive than a toothbrush!  I think Drugstore.com is the cheapest source, as it's only $54.99 there AND you'll earn $2.75 in "drugstore.com" dollars!
And if you click  here, you'll get a form to fill out which will entitle you to a $15 rebate.  Score!