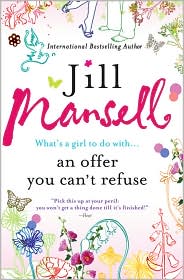 Okay, so how the hell have I not heard of Jill Mansell until recently? If you haven't read any of her books, pay attention…
An Offer You Can't Refuse is my favorite book so far this year. I know it's only April, but I've read probably about 50 books so far. So yeah, I'm not kidding. And in terms of fiction, this is in the top five for the past year. I love it!!!
Jill Mansell is brilliantly witty, and even though this is one of those "can't possibly happen in real life," she writes in such a down to earth way that in no point during the book did I stop to think, what-the-eff? This doesn't really happen!
My only complaint? I couldn't put it down, and therefore wound up reading until like four in the morning. It was really just that good. Since I normally review lipstick (which there's plenty of in AOYCR!), I'm not really sure what else to say… The cover had a nice sheen and texture? Just go buy the book on Amazon.com
for $10.98. Throw it in your gym bag/beach bag (okay, a little early for that)/ purse/WHATEVER and dig in. When you're done, pass it on to a girlfriend and see if she's got something for trade. Reading, um, makes you pretty?
*I know it's too early to be going to the beach in most places… but since you're probably already pre-game tanning, working on your "bikini body," etc., you might as well start stocking up on your literature, ladies!