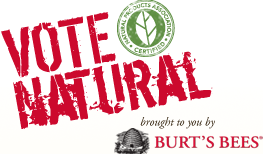 "You do your research to make sure the products you buy are safe as well as socially and environmentally responsible. In order to make it easier to identify truly natural products, Burt's Bees, along with the Natural Products Association and other leading natural personal care companies, developed The Natural Standard for Personal Care Products.
This standard ensures that personal care products labeled "natural" are made with at least 95% natural ingredients and contain only those ingredients that are specifically allowed under this standard. To meet the standard, products—and the companies who make them—also need to meet certain guidelines with regard to safety, responsibility and sustainability.
To easily identify those products that meet the standard, the Natural Seal has been developed. Now, you can trust that products carrying the Natural Seal truly are natural and ultimately, better for your well-being. Look for the Natural Seal on personal care products that have earned it starting later this year!"
-votefornatural.com
*****
So, have you voted natural yet?  I have, and so has Julianne Moore (seriously, she is just freakin' gorgeous!).  Burt's Bees is making it oh so easy; just click this link and vote!  And if making sure the products you use on your body are good for you isn't enough incentive…  there are prizes!  Every day there will be a drawing for a Burt's Bees lip balm (if you've been keeping up, you know I love this stuff and hoard it like nobody's business!).  100 Second Place Winners will receive a Burt's Bees Vote Natural t-shirt, 25 first place winners will win a shirt autographed by Julianne Moore, and the GRAND PRIZE winner will receive a ONE YEAR SUPPLY of Burt's Bees products.  Oh, I am so keeping my fingers crossed for that!
Alright, alright, enough reading.  Get your pretty little self over there and vote natural!