Okay, I haven't stepped into a Payless in forever. However, I recently saw an ad for some of their fall shoes and oh my god. I'm dying! I'm going to have to break up my new shoe obsessions into a few posts because seriously, gals, there are SO MANY awesome pairs!
I'm in the middle of a shoe crisis and so I'm having so much trouble not breaking out a credit card to pick up some new shoes! My beloved Rocket Dog flip flops broke (one of the snaps strapped) and now I'm left with a flurry of too hot or super uncomfortable alternatives. I really need to invest in some more sensible shoes, but ridiculous heels are just so tempting! Even my sneakers have a 3″ heel, but they're so warm I can't wear them for at least another month.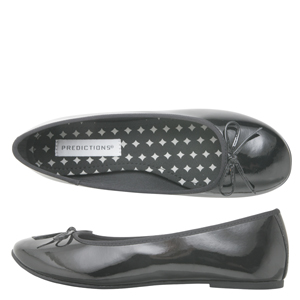 Because of all my shoe shenanigans, and my focus on boots/booties/heels for the last few shoe related posts, today I'm going to bring you some super cute flats (*gasp*).
These Fiona Ballet Flats are totally doing it for me right now. First of all, they're only $15.99. Second of all, they come in red. Hell yes! I have terribly flat feet, and so I'm totally excited that these are also available in wide-width… thank you baby Jesus! For any brown lovers, they're available in Brown Satin… I'm just not really loving those, however.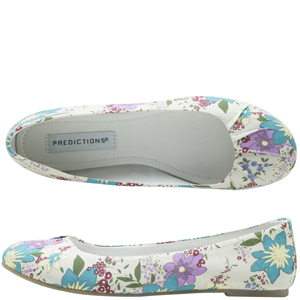 I know, I know… These aren't particularly fall/wintery shoes… but they're really goddamn cute! And they're also available in pink. You can pick up either pair of these Crush Ruched Ballet Flats for $16.99 (currently on sale from the original price of $19.99).
Come the dreariness of January and February, these babies would make a really nice transition into the Spring by first being matched with the dark jewel tones of the season (the wine color of the smaller flowers would be a great accent to a dress of the same shade) and then with lighter, brighter summer dresses. I'd probably wear them all winter, though!
These Gigi Bow Flats are a really adorable, comfy looking way to wear the preppy plaid that's so in style now! I love how soft and casual the fabric looks, but I also adore how the bow on the front classes them up and takes your Monday morning lounge wear to a slightly more elevated place!
They'd also be adorable with a simple black dress or skirt-and add a whole extra layer of librarian chic to some of the adorable cardigans starting to take over racks in all my favorite stores! The Gigis are on sale for $17.49 right now!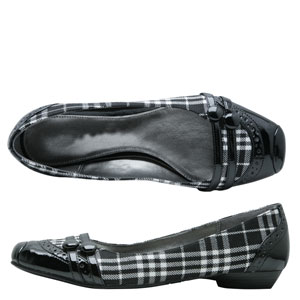 Here's another, super chic, way to wear plaid! These Flare Button Flats are so different from all the pairs I've been browsing lately that I had to make sure to include them!
First of all, I love the shape! I have a feeling that my feet would totally thank me for the shape of the toe in particular. I also have warm fuzzy feelings for the buttons-a total addiction of mine- and the barely there 1/2″ heel.
The mix of plaid fabric and black patent finishing make them look totally sophisticated, and definitely worth the $22.99!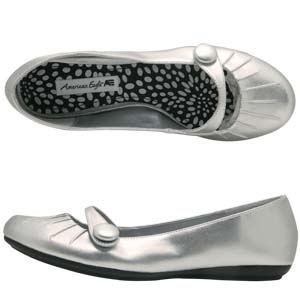 I keep reading that metallic silver shadow is all the rage for winter… so why not the metallic silver shoe? If you're not buying that theory, don't worry; the Cherish Mary Jane flats come in a whole rainbow of colors. And by rainbow of colors, I mean that they come in black (regular and wide width, yay), brown, red, and silver (duh). So, maybe not ROY G BIV, but that's still a lot of choice!
I dig the ruching and the adorable front strap (the button too, of course). I also think the rubber sole is a great idea for slippery winter side walks… These babies look stable. Oh, and the price is right; they're on sale for $17.99!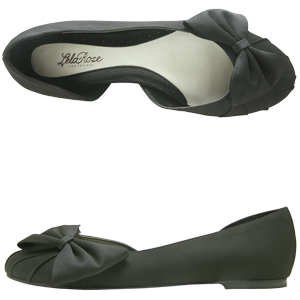 Oh baby, oh baby. Give me anything with a bow! The Sanborn Bow Flats are totally fittin' the bill. I really like that the bow is the focal point of the shoe without being comical or overbearing… and also, not long enough to get dragged through the muck! Not that I'd wear these honeys anywhere messy!
My only concern is the opening on the inner side. This pair isn't available in a "wide width" and I'm afraid that my not so narrow feet might be inclined to sort of hang of the inside. These are definitely a pair I'd need to try on in the store-which could get totally dangerous, considering all the items currently on my Payless Wishlist!
Oh, and PS-these come in a totally rockin' shade of grey!
Alright ladies, that's it for now! I've got a few more entries coming on my favorite boots, booties and heels from Payless-but you don't have to wait! Head to your nearest Payless store or log onto their website and shop, shop, SHOP! And don't forget to tell me what you get!