After the plague Wen cast upon my hair, you know I was looking for something to fix it-FAST!  Normally, I'd turn to my Ojon moisturizing duo…  But I'm out!  Somehow, I managed to keep just the right shower rotation that I ran out of all my high end products at the same time!  Bummer!
Of course, I have *baskets* of products that don't get a lot of love-and a few that haven't gotten any at all!  In I went, and came out with…  Burt's Bees Color Keeper Green Tea & Fennel Seed Shampoo and Conditioner.  I think I grabbed it mostly because I still wanted something natural to use on my hair-and boy, I'm glad I did!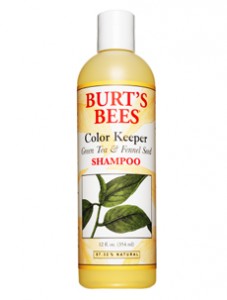 I will admit, I didn't buy these products of my own volition-rather, they were cast offs that I scored last time I visited my mom (thanks, Mom!).  She hated them-more on that later-but I figured that I didn't have much to lose.
Here's what the Burt's Bees official site has to say about the product…
"Green Tea extract provides natural UV protection to maintain vibrant hair color, while Fennel Seed extract helps renew processed hair and Jewelweed protects and repairs damaged hair. Luxurious lather and penetrating conditioning repair color-treated hair so it's full of color, naturally."
I agree 100%!  As soon as I opened the shampoo, I was pleasantly greeted by a delicious scent-I'm guessing the Green Tea.  Since I've been slacking on drinking it lately, I felt a little better when I put some in my hair!
Also, the creators aren't kidding when they say "luxurious lather."  I know that the ingredients which cause shampoos to foam up like that aren't the best for your hair…  but they make the product so much sexier!  However, I will admit that I was worried after I washed the shampoo out-my hair felt like a tangled mess!  Luckily, that's where the conditioner came into play.  I do think I used a little bit more than normal because the texture was sort of thin, rather than the creamy one I normally expect from a conditioner.  However, it certainly didn't disappoint!  By the time I rinsed my hair, not a tangle was to be found!
I decided to let my hair air-dry after using the new products, rather than partaking in my normal, highly abusive, flat iron and blow drying routine.  Back were the glorious curls that I've been so missing!  Back was the shine and softness I'd been denied.  Back was my hair!
Now, as I mentioned before, my mom HATED the set.  Because of that, I want to give you a little description of my hair versus hers, so you can decide if you think the product is right for you!  At $8 a bottle, it won't be the same tragedy an investment of my enemy, Wen, would be!
My hair is thick, and I keep it in a chin length pseudo bob.  It's incredibly curling, but not tightly wound-I'm frequently told it reminds people of Marilyn Monroe (oh, the blushing!).  I also bleach it regularly…  every 5 or 6 weeks.  In between those moments of hair genocide, I use a stockpile of products on it:  weekly deep conditioning masks, copious amounts of hair spray, and even some gel.  I also blow dry and flat iron daily, as mentioned.  However, I only wash my hair two or three times a week-in the mean time, I use my holy grail, Ojon's Dry Shampoo.
My mom's hair is also thick (once again, thanks Mom!) and near shoulder length.  Hers has a lot of wave to it-more when the humidity rises-but is not as curly as mine.  She colors it regularly, but keeps hers darker.  I believe she does this about once a month, which root touch ups when necessary.  She uses an occasional mask, as well as some hair spray or other product.  She also blow dries it, although she doesn't straighten it.  She also washes it daily.
I hope that helps–if your hair and maintenance sounds more like mine, try Burt's Bees!  If you sound more like my mom, you might want to sit this one out…  However, Burt's Bees has TONS of other wonderful products for you to try, so your wallet still isn't safe : )