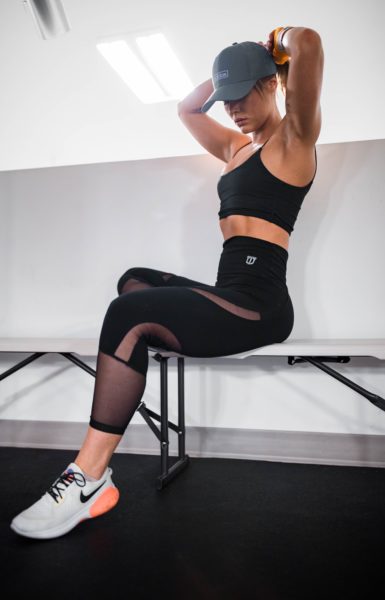 Leggings have become a popular and versatile fashion staple, as they're easy to incorporate into women's outfits for work, parties, exercise, travel, and much more. Whether you're new to wearing leggings or want to up your fashion game, read on to learn more about these comfy style essentials.
Thermal Leggings
Designed with thermoregulation features, a pair of cotton leggings can help keep you comfortable through the activation or deactivation of cooling polymers in the fabric. The material is intuitive and will adjust to the perfect temperature so that you can feel comfortable no matter where you are or what time of the day it is. When shopping for thermal leggings, opt for neutral colors that you can wear with any outfit.
Printed Leggings
Printed leggings have become trendy because of the fun and vibrant spin that they can add to different outfits. Try purchasing printed leggings with more muted colors and minimalistic designs so you can still wear them to work or other conservative functions. Reserve the wild and colorful prints for more casual activities where you really want to make a statement.
Distressed Leggings
Distressed leggings are a great way to make your more laid-back outfits look stylish with little effort. While they're best for casual and informal occasions, they can still turn heads when matched properly with other garments. Try pairing these trendy leggings with your favorite graphic tee shirts, plaid button-downs, and oversized sweaters, among others.
Jeggings
These combine the versatility of jeans with the comfort offered by leggings. Additionally, jeggings can work for practically any outfit because of how closely they resemble jeans. And since jeggings also come in high-waisted and low-waisted options, you can easily substitute your favorite jeans with a pair of jeggings.
Leather Leggings
Made from stretchy faux leather, these sexy pieces let you replicate the look of leather pants minus the pinching and discomfort. They're great to wear when you want to make your work and casual outfits look chic but fierce.
Indeed, leather leggings are rather versatile, as they can easily be dressed up or dressed down for any occasion. Moreover, they're also perfect to wear during the fall and winter months, as their material can help keep your legs warm without sacrificing style.
Glitter Leggings
Go all out on sparkle with a pair of glitter leggings. These shiny numbers are great for special occasions because they offer a glam and curvaceous look without showing too much skin. So if you don't feel like wearing a dress or pants for a party, throw on a pair of glitter leggings instead.
If you do choose these for your bottoms, just remember to pick a subtler top and footwear. This will keep them from clashing with your sparkly leggings, allowing them to become your outfit's statement piece.
Treggings
If you want to wear something that's not too tight but not too baggy, treggings could be your next favorite thing. Unlike jeggings, treggings are made of much thicker material. This means you don't have to worry about panty lines or any accidental flashing. Treggings also provide a flattering shape to your legs without feeling too tight. That said, you can confidently wear treggings to work without breaking any dress codes.
Compression Leggings
If you're an avid gym-goer who always wants to look your best, compression leggings should be a part of your workout wardrobe. You could try thermal compression leggings, which make you perspire more during workouts to burn more calories. On the other hand, anti-cellulite leggings help smooth out your legs and tummy while giving you ample support during more strenuous workouts.
Woolen Leggings
During the winter months, staying warm often means wearing bulky and heavy clothing. But with woolen leggings, you can be stylish, toasty, and comfy even in freezing weather.
Woolen leggings are designed to be worn as underwear and trousers. Hence, you can easily match them with different kinds of winter tops, outerwear, footwear, and accessories. With this versatile piece, you can simplify your winter wardrobe without sacrificing practicality.
Nylon Leggings
Nylon leggings have become quite popular because they're lightweight, comfortable, and easy to care for. If you lead an active or busy lifestyle and need your clothes to stay relatively wrinkle-free throughout the day, nylon leggings might be just what you need. We recommend getting ankle-length options so you can easily wear them with different garments for work, school, travel, and much more. It's also a good idea to get them in your favorite colors to add more variety to your outfits.
When paired correctly, leggings can be a key piece in your wardrobe. You just need to know what types work best for you as well as the various ways you can wear them to fit your personal style. Whether you want a trendy but comfy ensemble or a more striking get-up, getting the right pairs of leggings can go a long way to enhancing your look.