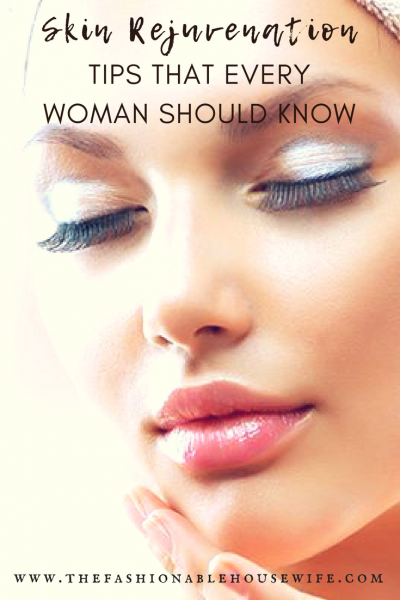 The skin looks perfect at birth. However, as we grow, it is exposed to different damaging factors including chemicals, pollution, and the sun. Furthermore, aging can also take a heavy toll on your skin. Skin rejuvenation is a process that reverses the visible signs of skin damage, for example, blemishes and wrinkles. Here are ways that you can rejuvenate your skin and enjoy a blooming and glowing skin.
Know your skin type
Your skin care routine will depend on your specific skin type. This is why you should know your skin type so that you can choose a product that is ideal for you. There are four common skin types: dry skin that is rough or flaky, normal skin that is clear and not sensitive, sensitive skin that may itch or burn when you apply specific products, and combination skin in which some areas are oily while others are dry.
Cleanse your face
You should use a cleanser that is soap-free because soap is likely to dry out your skin. It is important for you to use a cleanser that perfectly suits your skin type. You should just rinse your face with the cleanser and avoid scrubbing. You can try different brands of cleansers until you get one that works perfectly for your skin. Cleansers with fragrance or alcohols are ideal for dry skin, while oil-free cleansers are good for oily skin. Â 
Exfoliate
Exfoliation should be carried out after cleansing your skin. Exfoliating helps to remove dead cells, dirt, and debris so that they can be substituted with new cells. Regular exfoliation is one of the most effective ways of rejuvenating your skin. Instead of undertaking chemical rejuvenation to eliminate dead skin cells, you can also do it on your own. All you need to do is purchase some exfoliating creams or use home-based products like papaya and lemon juice. Check out Ashely's list for detailed information on the best skin care products.
Moisturizing
For your skin to look good, you need to moisturize it regularly to keep it hydrated. You can use moisturizing lotions and also drink lots of water throughout the day. It is important that you use a moisturizer containing aloe vera or any other natural anti-oxidants that are good for the skin. Apply your moisturizer and massage it into the skin so as to tone your facial muscles and to bring the essential nutrients to the surface of your skin.
Proper diet
To get a naturally beautiful skin, you need to have a healthy diet and take care of your body. To repair and renew your skin, you should eat foods rich in antioxidants. Rejuvenate your skin from the inside by taking vitamins A, C, B, E and minerals such as zinc, copper, and selenium. You should eat a balanced and healthy diet and avoid fried foods, fast foods, and sugary foods.
Our skin naturally loses its vibrancy, elasticity, and softness as we age. However, there are a number of simple lifestyle changes that can help you rejuvenate your skin. You do not have to go through expensive treatments or surgeries for you to have the glowing skin you want. With the aforementioned tips in mind, you will be able to give your skin that rejuvenated look that you have always wanted.