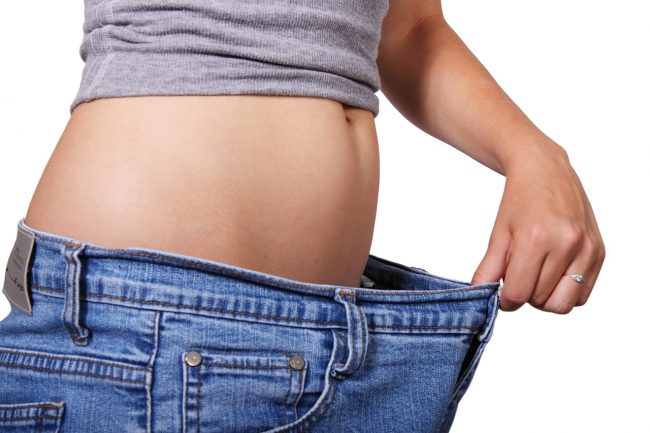 You may believe that belly fat is just a cosmetic annoyance that keeps you from looking amazing in your bathing suit. However, it has much more sinister effects that are directly related to your health.
Belly fat is a little different from the fat found on other parts of your body because your torso is where your central organs are located. Belly fat, or visceral fat as it is known, surrounds these organs and causes distress.
The more belly fat you have, the more likely you are to have Type II Diabetes and heart issues. Now doctors are starting to not only check your body mass index (BMI) as a health indicator, but they will also check your belly fat or waist circumference. Here are ten tips to help you receive a good report during your next visit to your doctor.
1. Keep Trans Fats Away
Many products that used to have trans fats no longer have them, so that is good news. However, you can still intake trans fats when you eat things like margarine or butter substitutes. Look for the words "Partially hydrogenated" and when you see them, put the product back on the shelf. You can also check with restaurants to see which foods on their menus have trans fats and avoid them. Eating a diet high in trans fats can lead to metabolic resistance and belly fat gain.
2. Fiber is Your Friend
Fiber helps the foods you eat to slow down as they go through your intestines. This helps you to feel full for a longer period of time which results in fewer overall calories consumed. You also end up actually taking in fewer calories from the foods you do eat.
People who eat diets high in fiber tend to have less belly fat than those who don't – nearly 4% less. To get high fiber, eat a lot of beans, brussels sprouts, some seeds and nuts, and fruits and vegetables.
If you find it difficult to get your recommended amount of fiber intake, choose a product like Isagenix which have the correct amount of fiber in simple to drink and delicious shakes. Isagenix is a company that offers a unique home based business opportunity for nutritionally-minded people who want to feel healthy and make a change for themselves. You can go to their page and see numerous reports of people losing belly fat using their products.
3. Skip that Drink
It is scientifically proven that those who drink alcohol are more likely to have higher amounts of belly fat than those who do not drink alcohol. We all know why it's called a beer belly, right? Skip the beer and choose a flavored spritzer water instead.
4. Protein Helps You Lose Weight
Increase your intake of protein at each meal. Protein also helps you to feel fuller longer and can mean a reduction in overall caloric intake. It also helps energize your metabolism and will help you keep muscle when you are trying to lose weight.
5. Cut the Sugary Snacks
This includes sugar found in processed foods, but also natural sugars like agave. They can be used in limited amounts, but don't rely on sugar as another food group. Sugar definitely causes belly fat to increase and it even is related to diseases like fatty liver disease and heart disease.
If you have a sweet tooth, you can create your own healthy options like banana ice cream using blended banana and almond milk.