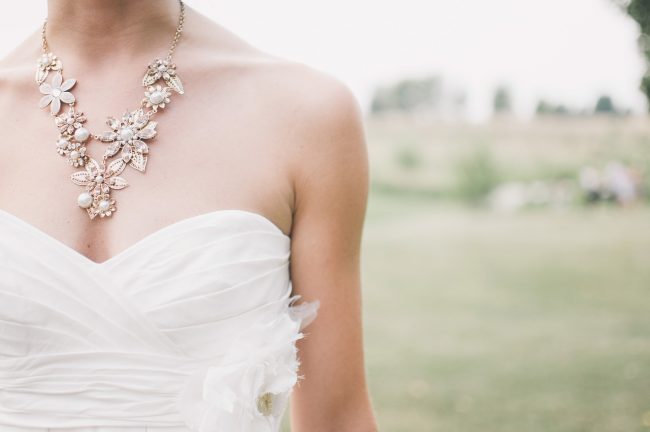 When it comes to style, all of us have broken some of the so-called rules. All the same, there are still many tried and tested tips that will have you looking your best, even for jewelry to be worn on your wedding day. So if you need some pointers for accessorizing your wedding gown, look no further; below are some useful hints.
Don't overdo it.
This is the first rule for selecting jewelry for your wedding; don't go overboard. Irrespective of how tempting it might be to adorn yourself with bling and baubles, it's important that you don't let your accessories rob you of all the attention. Stick to the 'less is more' mantra and wear a few great pieces instead of accessorizing your entire body.
Make sure your dress and your metals match.
Are you finding it a bit hard to choose between gold and silver jewelry? Well, let your choice be guided by the color of your gown.
Bright white gowns do well with silver or platinum pieces.
Gold jewelry bring out the creamy shade of an ivory gown.
A champagne gown looks pretty with gold jewelry, which enhances the warm tones of this light beige color. Rhinestones and burnished silver can inspire an antique look.
Try rose gold jewelry if your gown is blush. The metal's pink cast coordinates well with the soft pink color of the dress.
Consider the neckline of your dress.
The décolletage of your gown plays a big role in framing your face. Picking jewelry that coordinates seamlessly with the neckline brings out your facial features better.
Strapless or sweetheart necklines
When this silhouette is worn with a choker, it brings out your smile and creates the illusion of height. Alternatively, leave out the necklace and instead wear statement chandelier earnings from Leo Hamel Jewelry. Pull your hair off your face and add a simple embellishment that complements your look such as 20s-inspired feather barrettes or a few fresh flowers.
Since your neckline is the main focus, it's best to have your standout pieces there. However, don't be shy about adding a cocktail ring, bangle or smaller bracelet to balance out the look of your royal wedding jewelry.
Halters or reverse halters
Use decorations such as vines, combs or pins to accessorize your hair. Depending on the look you're going for, these decorations can be floral, bejeweled or sleek. If you looking for a retro vibe, you can go for a beautifully embellished birdcage veil. Use a cocktail ring or a bracelet to add a little something extra.
V-neck dresses
The V-neck style is designed for decorating the décolletage. A pendant or choker or layering of both will do. Your necklace should have matching earrings that may be small or dangling, depending on the effect you're going for.
Be yourself.
Your wedding jewelry should be a reflection of your taste and style. So stick to studs if you're not comfortable with big chandelier earrings. Don't hesitate to put on a lariat necklace if you love the way you look in it. Great accessories give you confidence, the best accessory of all.