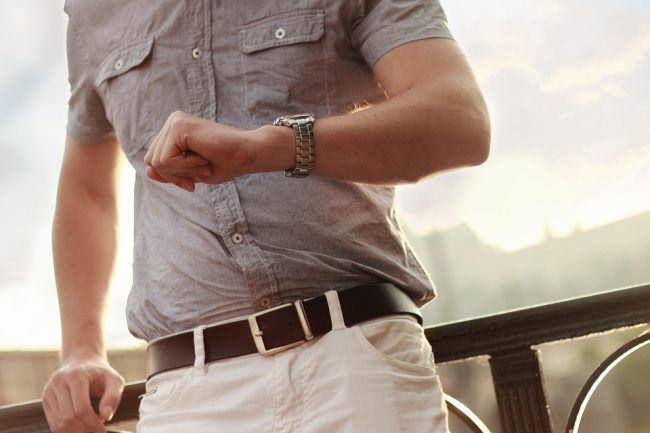 Many women enjoy shopping for clothing for the man in their life. Although today, more guys are caring about their appearance than ever before, many still trust the ladies in their lives to offer them guidance (or even pick their outfits) when it comes to making sure that they look their best.  If you're the type of girl that enjoys looking for a treat for your man every time you have a shopping spree, read on to find out more about the best types of fashion items and accessories to buy.
T-Shirts
Most men (and plenty of women, too!) can never have too many t-shirts. And, it's true – the t-shirt has been a wardrobe basic for decades, and is essential for a casual outfit, layering under shirts and sweaters in cold weather, and even for relaxing in at home. You can't really go wrong with basic plain t-shirts, but don't be afraid to be a little wilder with your choices, especially if you find a t-shirt emblazoned with something that your other half really enjoys, for example Slap Shot memorabilia.
Practical Items
If you're hoping to buy a fashion gift for your boyfriend or husband and have no idea what he'd like, then the best idea is to play it safe with something practical. Although they may be rather unromantic, gifts such as socks, underwear, or even thermals for in the winter can never go amiss as they serve a necessary purpose and are something that your man will always need.
Smart Clothes
Unless your significant other works in a job where he's required to dress his best at all times, then he might have a serious shortage of smart clothing. Many guys will only have one suit that they wear for work, and a selection of ties and shirts to pair with it. If this sounds like the man in your life, then you might want to think about getting him something smart such as a tie or cufflinks – especially if you have an important event to attend coming up!
Accessories
What do you do when your boyfriend already has a closet full of clothing and isn't interested in filling it up any more? In this situation, you can always turn to the gift of accessories. Usually we think of accessories as something that's more feminine, however, there are many stunning accessories available for men that mustn't be overlooked, for example watches, chains, hats and sunglasses which will surely complete your boyfriend's outfit.
Comfy Clothes
Lastly, purchasing some really comfortable clothing for your boyfriend to relax in, such as a new pair of pajamas or a new sweater can be a lovely way of showing them how much you care. Comfortable clothing often makes a lovely gift, and it's a great choice too if you're in a new relationship and aren't too sure what to buy for your new beau for a special occasion.
What kind of fashion items do you enjoy buying for the man in your life? We'd love to hear from you in the comments.