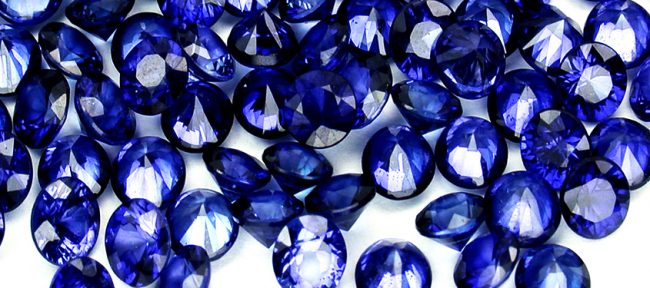 For hundreds, thousands, of years, precious gemstones have been used in jewelry. The rarer the stone, the more valuable it is. And, for most of its history, the sapphire has been the gemstone of choice — beating out even diamonds. In fact, diamonds didn't become popular until just recently (relative to gemstone mining).
Here's the history of sapphires you haven't heard.
In The Beginning
Sapphires have been prized as great gemstones as early as 800BC, when they were used by rulers of ancient Persia. They believed that the sky was painted blue by the reflection of sapphire stones.
A poet once described the sapphire as a "blue of clear sky just minutes after sundown." They were also a holy stone to the Catholic church and Ancient Persians. In some religions, the blue color represents the heavens. These stones also represent the apocalypse, and ancient lore told people that the tablets on which the ten Commandments were written were actually made of sapphire stone.
This makes sense in the context of the times, since many people following the religion believed an apocalypse was coming.
Kings wore sapphires about their necks as a powerful defense from evil and harm. They were said to protect the wearer from envy while attracting divine favor. In the 12th Century, the sapphire was known as a stone most appropriate for ecclesiastical rings.
For example, the great Oriental traveler, Sir Richard Francis Burton, is said to have had a large star sapphire — something he referred to as his "talisman." It was with him all the time and brought him attention and good fortune. The Cingalese thought the star sapphire protected them and guarded against witchcraft.
Of course, some sapphires were untreated and uncut. Today, untreated stones are hard to find. Still, the sapphire gem is a valuable stone. Even in more modern times, Prince Charles' gift of a sapphire engagement ring to Lady Diana sparked renewed interest in the gemstone.
The Museum of Natural History in New York houses one of the most beautiful and largest  sapphires in the world, the "Star of India." It is an amazing 563 carats.
Do They Have Mystical Powers?
According to some, the sapphire has mystical powers. For centuries, it's been seen as a symbol of good health and promoter of truth, a symbol of the heavens, and preserver of chastity.
It also has been long believed to be curative. In ancient Persia, it was used as an all purpose medicine — ground up into a fine powder.
Ivan the Terrible of Russia said sapphire strengthened the heart and muscles, giving a person courage. Some have even claimed it an antidote for poison because it kills snakes.
Conclusion
Regardless of whether you believe in sapphire's mystical powers, one thing you cannot ignore is its history. It has been used by kings, queens, and even commoners as a symbol for many things. Today, it is seen as a beautiful gemstone, and is used in settings for rings and a wide range of other jewelry.