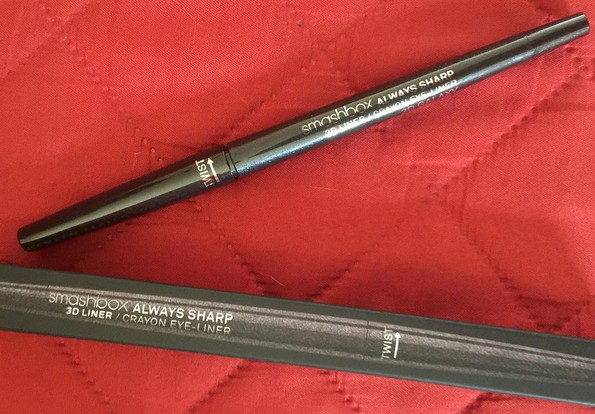 Have you ever spent hours trying to make the perfect eyeliner wings just to erase both of them? I do that every single weekend. I have some great liquid eyeliners, but I get so frustrated making the wings on my eyes. I think I need to get products more suited to my skin. Recently, I have been using Smashbox's Always Sharp 3D Waterproof Kohl Eye Liner and I have never had such an easy time making perfect wings.
My favorite part of this product is how thin the liner is. When I have to use the brush tip applicator of most liquid eyeliners, I have a hard time maintaining a straight line. Smashbox's Always Sharp 3D Liner makes it really hard to me to mess up my wings. Since the product is a firm, retractable pencil, I can maintain a straight, even line on both of my eyes. I don't even have to shape the finished product on my face with a Q-Tip.
Aside from creating a classic "winged" look, this particular color is perfect for the fall and winter season. The grey shimmer looked so cute when I went to Comic Con NYC and my friend commented that it would look cute with her spooky halloween costume. I even looked up tutorials on how to do "batman" winged tips. The different types of uses are endless. Both black and grey are classic eyeliner colors to have for your makeup collection. Smashbox does not disappoint. If you're buying Holiday gifts in advance, this would make a great stocking stuffer!
Retail: $21
Buy It:Â Amazon.com, Sephora.com, Beauty.com and Smashbox.com