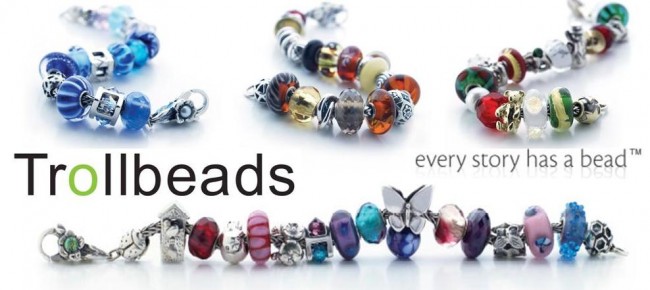 The entire Trollbeads story – Some frequently asked questions
Trollbeads was actually the one who originated the style of beads and charms which was started way back in the year 1976 by Lise Aagaard and Soren Nielsen who were siblings. The idea of trollbeads being used as a piece of accessory began when Soren thought of stringing a cord of leather through a bead rather than allowing it hang from an eyelet. The rest of the story is history! This popular company is still a part of the Aagaard/Nielsen family but the only difference is that now there are various famous designers from all over the world who are working with them. Glass beads came into the market in the year 2002 and since then, there has been a skyrocketing demand for them.
Trollbeads – What are they famous for?
Trollbeads are usually well-known for and famous for their beads, metal charms and bracelets. Apart from these, they also host a wide array of imaginative necklaces, earrings, pendants and rings. The beads that are particularly used by Trollbeads are made of amber, glass, stone and sometimes even of semi-precious gemstones. One of the most unique features of the bracelets of Trollbeads is that every single part can be interchanged by utilizing the chain and lock system.
Measuring the size of your bracelet – What is the process?
While measuring for your bracelets, you require measuring tightly around the place where the broadest part of your wrist is and then add either 1 inch or 2 cm. This will give you well-needed space to add beads and make your bracelet. Remember that the size of the lock is not calculated within the size of the chain.
From where should you purchase Trollbeads?
Trollbeads is usually sold by merchants with different tiers to mark off their extent of availability, inventory and the seniority of ordering further stock. When it comes to beads and charms, you can also get authentic ones online.
The Silver level Trollbeads shops carry Sterling bracelets and charms made of silver and some other limited category of jewelry.
The Gold level stores even include Gold Trollbeads products. You will also get different jewelry brands in such stores.
The Platinum level stores usually carry a huge selection of jewelry, including the OOAKs.
The Diamond level stores are one of the largest retailers and they have highest priority of receiving new stock before anyone else.
Trollbeads retailers aren't restrained to shipping inside the nation and hence buying online from a store that is located international is also available.
OOAKs – What are they?
Through glass beads jewelry, the designers used to test with different patterns and colors. Since they're unique, the beads aren't made in huge quantities and hence it is tough to get the accurate copy of them; although some specific colors and patterns are instantly available than the others. The classic beads were brought into the market in June 2011 and they are created with large diameter to befit some other bigger brands like Pandora bracelets. When it comes to the availability of OOAKs, the geographical location is an important factor and the popularity of the retailer is also a vital factor.
Trollbeads products usually offer you a guarantee of 12 months and there are ways in which you can take good care of the silver tarnishes and keep them clean. They will offer you hallmark jewelry and hence you will get to know their authenticity. Just ensure that you get them from the best stores in order to get them at the most competitive price.