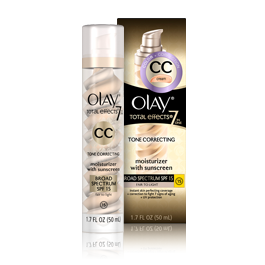 I've been using the Olay CC Cream (for light and fair skin) over the past few weeks and I totally love it. Their new collection is a all-in-one formula that combines a daily anti-aging moisturizer, SPF 15 sunscreen and sheer tint for younger-looking skin.
I really love how the cream provides instant coverage and correction to fight uneven skin tone, spots, and signs of early aging signs. When they say total coverage? They do mean it. My skin looks amazing everytime I use the Olay CC cream.
To be honest, I'm not a huge fan of foundation. I know it's important, but personally I find that it clogs my pores and I'm just not a fan. I've been using the Olay Total Effects as a base moisturizer before I go about the rest of my routine and it makes SUCH a difference.
It's just so lightweight and not greasy at all. And like I said, the coverage? Amazing. I love how soft my skin feels and how glowing it looks after every use.
You can find the Olay CC Cream online and at stores nationwide.
*Samples were provided in exchange for my honest opinions.