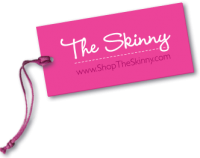 Fans of the flash sale retail site The Skinny are in luck – this skin care site has opened its virtual doors once again to bring you high-end skin care products at up to 65% off the retail price.
In addition to finding the perfect products for your skin, The Skinny offers educational videos and personalized recommendations to help you battle your skin concerns, whether you are a skin care newbie or have a particular skin problem you need help with.
The Skinny re-launched yesterday and are featuring sales from Coola, ICS Skin Therapie, MBeze and Fenix. In addition to skin care products, The Skinny will also be offering cosmetic services such as Botox at prices that the average woman can easily afford.
Sound good? Visit The Skinny now and shop this exclusive members-only site for access to the best skin care brands at prices you won't believe. Happy shopping!