Red is everywhere this spring. And one of the hottest trends is the red blazer. Why do we love the red blazer? Oh, maybe because it is the perfect way to say "I'm done with you winter! Welcome spring!". Ok, that was a little silly, but anyhoo I recently discovered Meinto and they sell the perfect red blazer. It's about $80, but it is so worth it!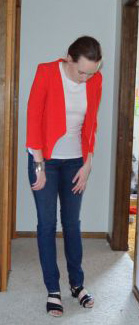 The red blazer trend is everywhere this spring and I am all over it if you can't tell. I have been planning ways to incorporate red into my wardrobe all spring. 🙂 I think I need to get a pair of red jeans next. I simply adore colored denim.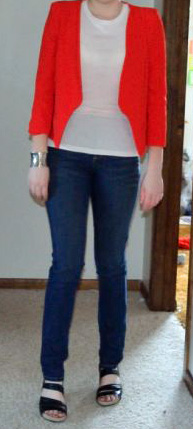 I have been looking for a red blazer/crop jacket for ages and I haven't found one. They all either don't fit right or they just don't suite my tastes, but I love this one! It is very flattering and I love how well made it is. It really is worth the money.
I'm not exactly sure what it is made of, but just so you know there aren't any buttons on it. It still works for me though. 🙂 I am very impressed with how fast Menito ships though! They really do ship mega fast.
Are you brave enough to try the red trend? Why or why not? If you are then you can pick up your own red blazer at Menito.com
*Sponsored, but my opinions are 100% mine. 😉