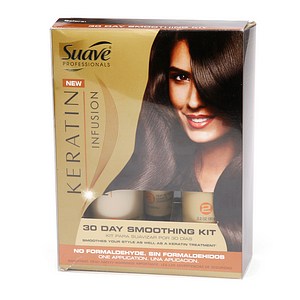 This all new at home kit from Suave is designed to smooth and detangle your hair. This kit comes with gloves, three products, a comb, and instructions. There are three products that you use and they are:
Step 1: Smoothing Cream with keratin loosens smoothes and detangles curls and waves.
Step 2: Cuticle Seal Cream with Keralock Technology reforms keratin bonds inside your hair fiber and eliminates frizz for a long lasting smoothness and manageability.
Step 3: Heat Defense Leave-In Conditioner provides ultimate moisturization to protect hair while hair styling. Formulated for use with blow dryers or flat irons for optimal shine and smoothness. Also, sold outside for continued use.
I love my hair. It's thick, soft, wavy, and has lots of volume. But like everyone else I have bad hair days. But the promise of having great looking hair for 30 days is good enough for me! 🙂
I read through the instructions and I'll admit that they freaked me out. Ok so maybe freaked out isn't the right word here ladies. I was petrifed! These instructions are scary!
Nevertheless, I gave the product a shot. Can I just say that it's a pain to apply? You get out of the shower three times and it takes you at least two hours to apply. And, the smoothing cream itself really, really, really stinks. I mean really stinks.
I would advice you to read the instructions VERY carefully. If you don't, well complications will happen.
However after the smoothing cream everything else smelled AMAZING! Everything is quite easy to apply and anyone can do it. Just be sure to read the instructions.
Did I notice a difference? Yes, I did. My hair has been much smoother and looks awesome. Is it worth it? I'd say yes if you have really frizzy/wavy/curly hair. However if you have stick straight hair then it probably won't be worth the time for you since this is designed to help people with frizzy/wavy/curly hair.
You can purchase this product at retailers nationwide for $12.99 so be sure to give it a short!.
The product for this review was provided to us free of charge for the purpose of product testing. This does not effect our opinion of the products in any way. We only write about products we personally like and use, regardless of how they were acquired.