If you have never used Aubrey Organic's products then you are missing out! Since it's cold out, you need to take care of your body. And what better way to do that, then by using some products that are eco-friendly, all natural, AND affordable!
Crème de la Shaves

If you are using drug store shaving cream, then stop! They will do more harm then good. This lovely shaving cream makes shaving oh-so easy! And the end result? Soft, smooth, silky, sexy skin. Your skin will never feel the same again! With so many scents you are sure to find one that you love! For only $5.49 you can't beat that for this amazing product!
Luscious Bath Bar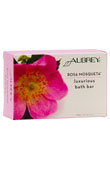 This soap doesn't leave behind a nasty residue like some. Instead, this bar will leave you behind with soft silky skin that is refreshed, moisturized, and clean!
You can find these products at health food stores (Whole Foods ect, ect) nationwide!
The product for this review was provided to us free of charge for the purpose of product testing. This does not effect our opinion of the products in any way. We only write about products we personally like and use, regardless of how they were acquired.