I don't know about you, but I know some people who are utter makeup-freaks. Of course, you could always buy them MORE makeup for Christmas and the new year, but what's the fun in that?? That's right, it's no fun! However, I found the coolest gift idea for the makeup crazy gal in your life. Whether she's your mom, friend, sister, or cousin, we have the perfect gift for her. It's called the Make-Up-Matte.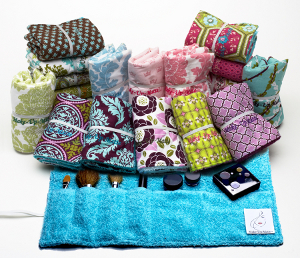 The Make-Up-Matteâ"¢ is a mineral and powder work space and portable carryall for cosmetics that is ideal for busy women on-the-go.
All that you do is unfold the Make-Up-Matteâ"¢ and use at home on a vanity, at the gym, in the car or public bathroom – anywhere you apply your makeup. Not only does this unique product provide a clean work space, but it absorbs the mess you make when you apply makeup!
It features a series of interior pockets store brushes and other makeup items while keeping cosmetics organized. When rolled and secured with the handy elastic, the Make-Up-Matteâ"¢tucks easily inside a purse, gym bag or suitcase.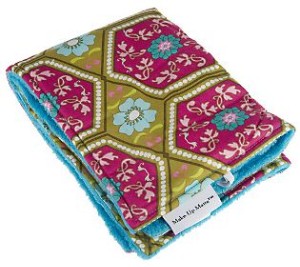 And the bonus? The adorable designs combined with a oh-so soft microfiber padding make it a great gift for your girlfriends this Christmas. Personally, I love the fact that it's machine washable! 😉 And that it's made in the USA.
Is it worth buying? I think so. I really like this product and think it's totally cool! It would make THE perfect gift for women and teenage girls alike.
And the best part? It's only $18.89 on QVC.com for a limited time. They also have a ton of prints available to choose from.