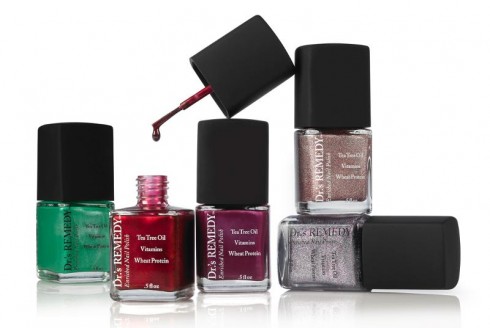 It's the holiday season! YAY! 🙂 And we love the Holiday season and we are SO excited that Dr.s REMEDY decided to come out with a AMAZING holiday collection to spread the holiday cheer! The new collection is called 2011 JOLLY & JOY collection and it ROCKS!
The holiday 2011 JOLLY & JOY collection of Enriched Nail Polish includes: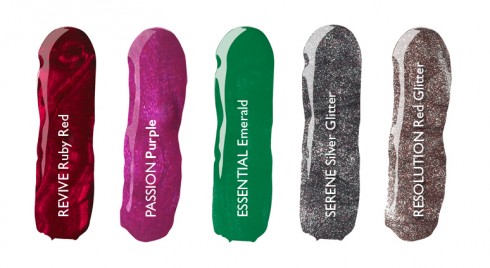 REVIVE Ruby Red: A shimmer-infused, Wizard of Oz-inspired shade of crimson
PASSION Purple: A bombshell-boysenberry with subtle silver meshed throughout
ESSENTIAL Emerald: A take on the classic tree-and-plant-inspired gem of a shade, with delicate glimmer and unparalleled amounts of glamour
SERENE Silver Glitter: A seasonal sizzler like no other: shine, chic, totally unique in the metallic scene
RESOLUTION Red Glitter: A red-meets-copper spin that's sequin-look-alike laden with high-shine and sparkle
I LOVE this nail polish. Not only is it eco-friendly, but it looks amazing! All of the colors are incredible and look AMAZING on your nails. They are so easy to paint with, and the Serene Silver Glitter is my favorite out of the collection. It's so shiny and sexy!
Dr.'s REMEDY is offering the following special price on selected holiday shades. Purchase ESSENTIAL Emerald, RESOLUTION Red Glitter AND SERENE Silver Glitter for only $14 each while supplies last. Also, free shipping on orders of $50 or more with code: HOLIDAY thru 11/18/11.
Dr.'s REMEDY Enriched Nail Polish is available for $17 online at www.remedynails.com. Be sure to fan them on Facebook and follow them on Twitter.
The product for this review was provided to us free of charge for the purpose of product testing. This does not effect our opinion of the products in any way. We only write about products we personally like and use, regardless of how they were acquired.