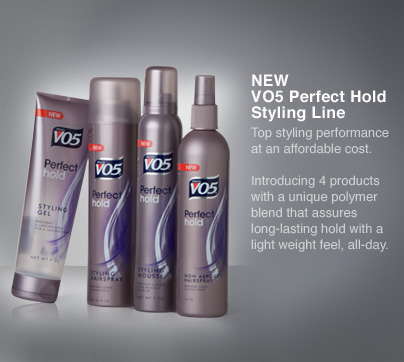 I don't know about you, but I'm a V05 girl. I always have been and I always will be! And when V05 sent me out their newest line of products I was SO excited! This line is called Perfect Hold and it includes four amazing products.
Perfect Hold Aerosol Hairspray – This lightweight aerosol hairspray is formulated with a select blend of ingredients that gives you a strong hold, without destroying your hair!
Perfect Hold Non-Aerosol Hairspray – This non-aerosol hair spray is filled with great ingredients that will resist humidity and give you a super strong hold while leaving your hair feeling soft and looking sexy! This product is by far my favorite and it's amazing! It's my go-to hair spray!
Perfect Hold Styling Mousse — This amazing mousse prevents frizz and holds curl in place. And it gives your hair the bounce and shine it deserves!
Perfect Hold Styling Gel — This styling gel is like no other! It provides a great hold with NO stiffness. Even in humidity.
These products are available at drugstores and mass-market retailers near you for $2.00 each. Which is amazing since the quality of these products is AWESOME! And of course, I LOVE that they don't stink. They smell amazing!
I was sent a sample in exchange for this feature, but all opinions are mine.