TheRealReal is the first ever refined, online designer consignment store! It's a place for women who love Chanel, Prada, YSL and other top designers, but can't pay a TON of money! (like me! ;))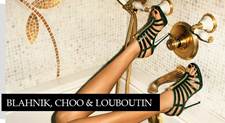 With their team of stylists who are constantly combing the closets of the most fashionable women, The RealReal provides member's insider access to the world's finest previously-owned jewelry, accessories, and clothing–from Hermes and Louis Vuitton to Balenciaga and Chanel at up to 90 percent off retail price.
Positioned in a flash sale format, members have 72 hours to take advantage of great deals, occurring five times per week as well The RealReal warehouse, an on-going sale with new pieces from various collections added daily.

The ReaReal also offers consignment opportunities to members who would like to rid their closets of unwanted product. With it's "White Glove Service", consignors can call The RealReal or visit the website and a stylist will schedule a pick-up of the items.
All items on The RealReal are hand-selected under the direction of Marcy Carmack, Creative Director and Co-Founder.   "I love great deals, beautiful designer clothing, and helping women make the right choices for their wardrobe.  The RealReal embodies all." 

The founder Julie Wainright says- "I founded The RealReal with the vision of creating one of the most > beautiful online stores with luxury brands — it just happens to be a consignment store."
Please check out and sign up at www.TheRealReal.com today! Sounds great right???