Nail leader Sally Hansen took New York Fashion Week by storm, joining forces with Tracy Reese, Prabal Gurung, and Alexander Wang to create exclusive nail colors to complement each of their runway collections. Sally Hansen's limited edition fall collections put exclusive runway nail looks at your fingertips.
The designers looked to Sally Hansen Complete Salon Manicure to create their custom colors. Backstage Beauty fixture and nail expert, Jin Soon Choi, created the manicures at each of the three shows.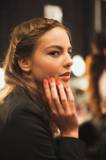 Tracy Reese joined forces with Sally Hansen for the twelfth consecutive season to create seven bold shades that mirror the designer's relaxed, romantic spring aesthetic. On the runway, models wore Complete Salon Manicure in Temptation.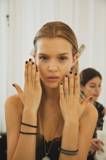 Prabal Gurung's three-color Complete Salon Manicure collection features eye-catching brights and creamy pale hues with an edge that reflects the designer's spring collection inspired by Nobuyashi Araki's photographic series, "Sensual Flower."On Prabal Gurung's fall runway, models sported Loves-Me-Not, a deep plum.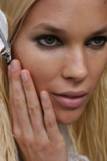 Alexander Wang enlisted Sally Hansen for a first-time collaboration to create a clean, natural-looking runway nail to offset his spring collection which channels a tropical speed racer using perforation and lasering. Models wore Parchment, a sheer nude Complete Salon Manicure shade on the runway—the perfect accent to Wang's downtown cool looks.
And thanks to Sally Hansen, us fashionable gal's can recreate these looks at home! You can find the new Sally Hansen nail collections from Alexander Wang, Tracy Reese, and Prabal Gurung for $7.99 each. Sally Hansen products are available at chain drug stores, food stores and mass merchandisers nationally starting April 2012.