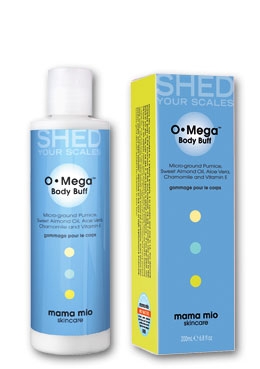 If you spent your summer outside like me, then your skin probably is in desperate need of rehab! That's why I suggest that you check out this awesome body scrub from Mama Mio!
Sun, sand, and salt water are summer elements that leave your skin in serious need of resurfacing and a moisture-boost! That's where Mama Mio comes in: the skincare experts bring you their Omega Body Buff Exfoliator ($33) – a gentle blend of Sweet Almond Oil, Chamomile, Aloe Vera and Vitamin E with micro-ground pumice for an incredibly kind, but very effective post-summer polish.
Simply apply Body Buff to dry (yes, dry) skin before you get in the shower, rub brusquely and rinse off. Dead skin cells are instantly removed and new cells are encouraged, leaving skin looking lustrous, smelling fresh and feeling wickedly soft.
Does it work? You bet! This body scrub leaves your skin feeling sexy smooth! It's awesome! Don't believe me? Then visit- mamamio.com