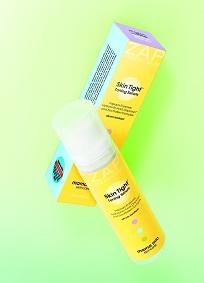 Well, tank top season is in full swing—are you exercising your right to bare arms? If your arms aren't in showing-off shape just yet, Mama Mio is here to help. Skin Tight Toning Serum ($56) offers smoothing and toning benefits in one, firming up slack skin while smoothing out the dreaded 'chicken skin' that can plague the backs of arms. Bringing facial peel technology to the body, Skin Tight gives you the boost you need to show your arms with confidence.
A totally innovative body care serum; Skin Tight Toning Serum transfers the technology of facial peels on the body. The three-stage approach consisting of combat exfoliation, skin tightening and skin aging preventive hydration wrinkled, flabby and tired skin whenever you need it. Lots of woman are using Skin Tight and loving the difference it brings to the surface appearance of their skin. Belly, inside of your arm, weak knees (even flabby faces) benefit from the magic formula lifts, tightening, gain resilience.
So, get ready to throw your arms in the air and wave them around like you just don't care!
All Mama Mio products are available for purchase at www.mamamio.com