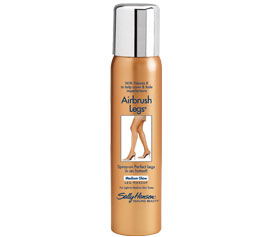 If you are like me then you have white no, make that snow white color legs. And in the summer you don't want to go around looking like Casper do you? Nope! Not me! I want to look like a bronzed goddess.
So, I'm very excited, okay super duper really super excited to introduce to you Sally Hansen Airbrushed Legs spray on tan for legs and feet.
Let me just start off by saying that this product is absolutely wonderful! I am in LOVE! This product is SO easy to apply, is streak free, dries within 60 seconds, is NOT orange, and best of all leaves your skin tanned, smooth, supple, and summer ready! It is the best tanning product of the year!
For the past several weeks my legs have resembled a bronzed goddesses and look absolutely beautiful! I am very happy to say that I am now quite confident and glad that my long white tanned legs are ready for summer!
Be sure to pick up a bottle (or two)of this awesome tanning spray for $9.95 at stores nation-wide.
The product for this review was provided to us free of charge for the purpose of product testing. This does not effect our opinion of the products in any way. We only write about products we personally like and use, regardless of how they were acquired.