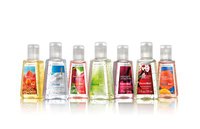 We here at The Fashionable Gal LOVE Bath & Bodyworks PocketBacs! They are awesome for keeping in your purse, at school, work, on your desk, at home, and of course in your pocket! 🙂 SO we are super excited to announce that Bath & Body Works is inviting consumers to log on to www.myPocketbac.com to customize their Bath & Body Works PocketBac labels through June 9th.
The winning designs will be chosen by fan popularity, allowing Bath & Body Works customers to select the design that will end up on shelves. New winners will be selected this month AND next month, doubling their chances to win.
Bath & Body Works has inspired a clean hands craze with its custom collections of pocket-sized anti-bacterials that started with Bac-2-School PocketBacs that launched last year. The design contest puts the power of personalization in everyone's hands, giving fans one more way to make PocketBacs their own.
What are you waiting for? Go enter here- mypocketbac.com