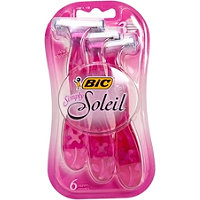 Summer is always hectic for every woman, and Bic is making things easier for us all with their new Bic Simply Soleil razors razors. These razors feature-
• A fun new design on the handles. That makes shaving a more fun experience.
• A different design/style.
• A cleaner, better shave that everyone will love.
The new razors are pretty cool don't ya think?
I got a chance to try these razors and loved them! They give you a nice clean shave and the cute handles are a nice feature too! They don't nick your legs at all and leave them looking hot! I loved that they don't leave any hair behind.
You can buy Bic Razors at stores nationwide.