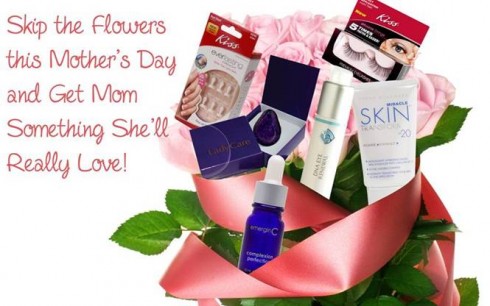 Keep mom looking beautiful this Mother's Day, May 8th, with a beautiful bouquet of beauty products.  Kiss, LadyCare, DNAEGF Renewal, emerginC and Miracle Skin Transformer offer perfect gifts for any type of mom.
Kiss Everlasting French Nail Kit
For the busy mom, give the gift of an instant manicure in minutes.  The Kiss Everlasting French Nail Kit comes in petite, real short and medium lengths for any mom's taste.  These glue-on nails give a professional French manicure and are easily removed with pure acetone, leaving absolutely no damage to the natural name.  $5.99 viawww.beautyonlinesupply.com and all leading drugstores nationwide.  Or give her the Manicure Kit with all the at-home tools she'll need for a professional manicure.  $9.99.
Kiss Premium Eyelashes
For the glam mom, the Kiss Premium Eyelashes are perfect for a night out on the town.  These new glue-on lashes now come with application strings making them easier to position on the eye.  Simply thread out strings once secured and dry.  In 9 different lengths for any occasion.
$3.99 via www.beautyonlinesupply.com and drugstores nationwide.
LadyCare
For all mom's going through the change, this new therapeutic device is a sure win for those dealing with menopause symptoms.  LadyCare is an effective magnetic device that discreetly attaches to the underwear that helps alleviate hot flashes, night sweats, irritability and weight gain.  $49.95 via www.ladycareusa.com – & Free shipping until May 30th.
Miracle Skin Transformer SPF 20
For the mom-on-the-go, Miracle Skin Transformer SPF 20 is perfect to hydrate, enhance and protect skin all in one silky formula.  This 3-in-1 tinted, treatment moisturizer leaves a matte finish on the skin and protects against harmful UVA/UVB rays.  With hydrating ingredients such as Q10, Saw Palmetto, Ecophasylis, Passion Fruit and Vitamins A, E and K, this complex treatment is all you need before running out the door.  $48 viawww.miracleskintransformer.com and at boutique shops nationwide.
Now go buy your mom (or yourself hahahah!) these wonderful gift ideas! 🙂