I'm a big fan of clothing. I mean seriously my family calls me a clothes horse. But, hey what can I say? I LOVE my clothing. So I was excited when I got to review two very lovely pieces of clothing from a awesome company called Funky Chic.
Funky Chic is a cute little clothing store that sells many different items. From clothing for work, to a  casual date, to a night out on the town, even fun and flirty tops! I was sent two cute little shirts to review.
Nougat of London Cardigan Sweater-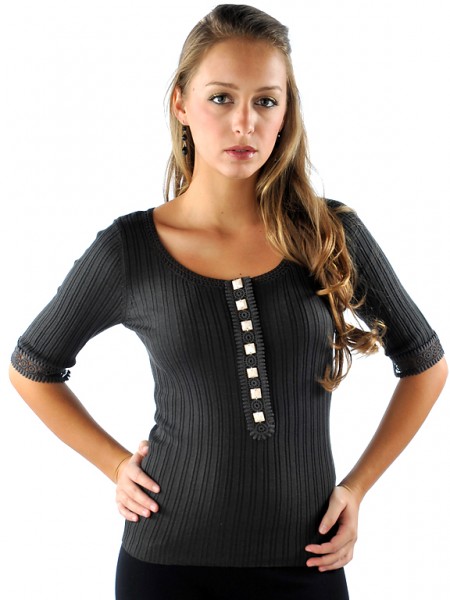 This is one of my favorite cardigans/shirts EVER. I got mine in a size zero and it's a perfect fit! So I was VERY impressed with how accurate their sizes are.
I've been wearing it as a cardigan over plain ol boring tees and it's really helped to give them a whole new look.  The charcoal color is beautiful and the little pink buttons are such a sweet touch! 😛 And the little lace details are SUCH a cute touch!
This cardigan is very comfy. I love it! 😀 It's perfect for Spring!
Closet Romantic Henley Top-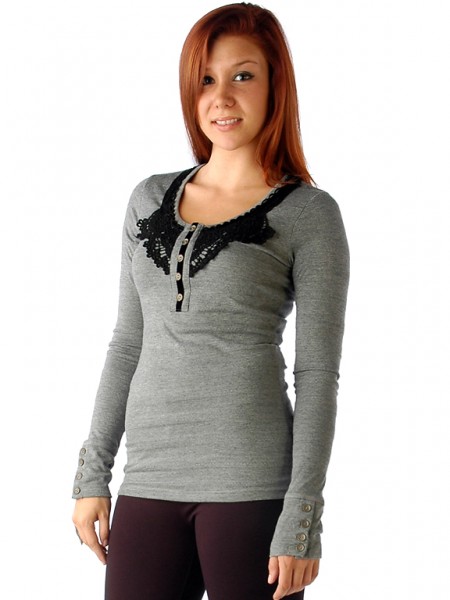 Ohhhh, I LOVE this shirt.  It's SO cute. I got mine in a size small and it too is a perfect fit!
Who wouldn't love a super comfy tee shirt with cute little buttons on it???? And not to mention the adorable collar! The collar is crocheted and looks SO nice!
I love this shirt! It too is perfect for Spring. Although, I'm a little sad that in a few months I won't be able to wear it as Summer is coming. :/
I love my new clothing from Funky Chic and you simply must check them out on the web!
The product for this review was provided to us free of charge for the purpose of product testing. This does not effect our opinion of the products in any way. We only write about products we personally like and use, regardless of how they were acquired.