Just in time for the spring slim-down, L'Occitane is thrilled to announce the March 28th launch of their newest addition to their famously firming Almond collection: Almond Delightful Shape ($38; usa.loccitane.com)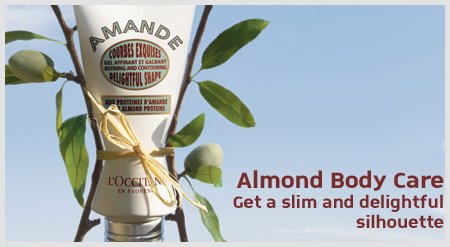 Proven to trim up to 1.3 inches off the thighs in just 4 weeks, this powerhouse product harnesses the power of the almond bud to firm and tone the skin, stimulate microcirculation and decrease water retention and the appearance of cellulite. In just 2 weeks of use the skin is significantly smoother, firmer and more beautiful, and after 4 weeks of use the appearance of cellulite is significantly reduced!
Almond Delightful Shape joins these other best-selling products in the range:
Almond Shower Oil ($22): This foaming body cleanser, which doubles as a shaving base, leaves skin silky.
Almond Delicious Paste ($36): A fragrant mixture of crushed almonds and sugar crystals that exfoliates while stimulating cellular activity.
Almond Milk Concentrate ($39): This multitasking milk concentrate nourishes, firms and tones the skin.
You can buy these products on the web here.