Your gym bag is an important part of your workout routine. It's your lifeline, relief and security. It's important to pack essentials that help your body recuperate, soothe muscles and get rid of the daily gym grime! Jack Black's Performance Remedy line is comprised of naturally-based active body treatments and sun protection therapies that fight fatigue, speed recovery and promote peak sports performance.
The latest innovation in topical pain relief. A soothing balm, Dragon Ice penetrates deep to lessen inflammation, ease muscle and joint aches and strains, help stimulate immune defense and support the body's optimal healing process. Ideal for pre and post workout, the therapeutic balm helps enhance performance and speed recovery.
Price: $22
Body Rehab Scrub & Muscle Soak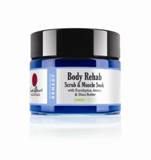 Formulated with a unique blend of moisturizing oils and hydrating Glycerin, it revitalizes tired, sore joints while stimulating the body and mind with a blend of Eucalyptus and Rosemary to effectively and quickly combat body fatigue. Aching bodies are left smooth, soft and completely touchable.
Price: $35
Mr. Fix It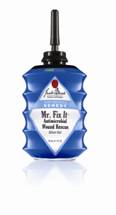 Patches up cuts, scrapes, bumps and bruises. An antimicrobial wound rescue in the form of a crystal clear, lightweight gel, Mr. Fix IT utilizes the benefits of Silver to quickly heal skin. This quick absorbing, non-greasy, petrolatum-free remedy goes beyond leading first aid treatment and has been shown to inhibit the growth of MRSA, Escherichia coli and Staphylococcus aureus, along with other germs and bacteria that often thrive in gyms and workout areas.
Price: $20
Turbo Wash Energizing Cleanser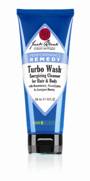 Jump starts the body, awakens the mind and helps revitalize the immune system for peak performance. A 2-in-1 product that cleanses both hair and body. Known for their antiseptic properties, Rosemary and Eucalyptus help naturally support immunity by reducing bacteria on the skin's surface and work as decongestants to help aid breathing. Juniper Berry helps assist in post workout recovery by helping to eliminate lactic acid buildup in muscles.
Price: $22
Jack's Dry Down Friction-Free Powder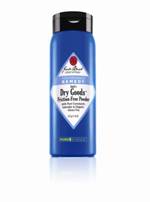 A friction-free powder that prevents chafing and enhances comfort during workouts. Ultra fine and talc-free, the formula quickly absorbs moisture, to offer exceptional protection from friction and irritation. Perfect for today's active lifestyles, Jack's Dry Down provides southern comfort when its needed most.
Price: $18.00
An oil-free, very water and sweat resistant, vitamin-enriched lotion that won't run or drip into your eyes. The quick-absorbing formula with exceptional staying power makes it a must-have accessory for sports professionals and weekend warriors. Singlehandedly raising the bar for waterproof sunscreens, Jack Black provides superior broad-spectrum UVA and UVB protection in an oil-free formula that is fragrance-free, colorant-free and dermatologist tested.
Price: $20.00 (4 oz)
Jack Black products are available at Bloomingdales, Neiman Marcus, Nordstrom, Saks, Sephora and www.getjackblack.com