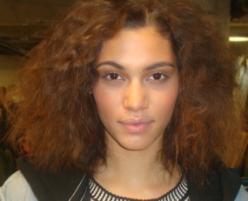 Accessories maven DANNIJO made a splash this season showing off their unique yet classy baubles, to compliment the jewels the played the make-up simple and sweet. Neutral shades and natural beauty ruled this show, and a beautiful bronze adorned the cheeks of all the models. Overall, the simple color scheme really let the collection speak for itself.
Makeup: Neil Scibelli and Kim Do for Jouer Cosmetics
Inspiration: "Legends of the Fall" meets The Great Gatsby.  The makeup blends the pastoral frontier of the Wild West with the shameless opulence of the Roaring 20s. Neutral shades of browns and bronze were used to contour the skin and create a sunkissed, natural complexion.  The clean, earthy makeup complemented the elegance of the bold collection while creating a cohesive and sophisticated look.
Get the Look:
•    Jouer Powder Eyeshadow in Chocolate
•    Jouer Powder Eyeshadow in Cappuccino
•    Jouer Mineral Powder Bronzer in Sunshine
•    Jouer Brow Definer
•    Jouer Hydrating Lipstick in Meredith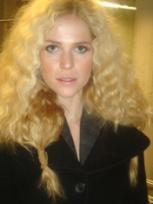 What a playful and fun look! The full and crimp-like texture of the hair is so carefree yet the frizz only makes it seem more glamorous (something frizz never does for me).
If you want to score this hair at home:Â  Blow dry freshly shampooed and conditioned hair. Next, take a triple barrel curling iron and clamp it from an inch away from the roots working all the way to the ends holding for 5 seconds each time. Gently brush out for volume and add a light application of glossing cream for supermodel shine. Et Voila!
Where to buy:
What do you think of this look?
xox,
Andrea