So, you don't want to get all trussed up like a sexy leg of lamb on V-Day? I've been there. Trust me. While crazy romantic curls and big over-the-top make-up is pretty, it isn't your cup of tea. Looking good is still a priority, but looking like it took your forever isn't. I have compiled a gorgeously simple look, that flatters, flirts and still has "I'm a goddess" written all over it. Minimalists, this is for you!
For the Hair:
Blow dryer
Round brush
Smoothing Balm (I love this one from Tresemme)
Bobby Pins
Inspiration: Minka Kelly's understated updo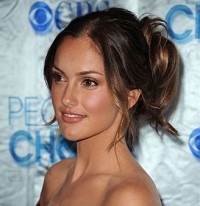 How to:
Take a 2 inch section, and start blow-drying at the root with a brush, pulling  the brush down as you keep the heat pointed down the hair shaft. Twirling the brush as you make your way down the section will give your ends a slight curl. Once your entire head is dry using this method apply a smoothing balm and part your hair down the middle (you can also part it to the side for a twist on this look). Twist the hair at the nape and secure it with hair pins. Pull a few pieces out in the front and you're done!! This only took me max 20 minutes.
For the Face:
Highlighter (This one works well on almost every skin tone!)
Tinted moisturizer (like this one)
Petal pink or nude gloss (here's my pick)
Inspiration: Scarlett Johansson's dewy date night look
How to:
Start with a clean face, and don't add any moisturizer. Brush a bit of highlighter on the areas where light naturally hits your face (think cheekbones and down the line of your nose, etc). Don't freak out if there's a bit too much sparkle for your liking. Add a layer (keep it light and even) of tinted moisturizer over the highlighter to lessen the sparkle effect. If the first layer is too sheer add one more. The key is make the skin look as if the pearly glow is coming from within. It may feel weird at first to apply anything before your moisturizer but trust me, the effect will be too harsh (and a bit greasy looking) otherwise.
With this look you'll appear as a goddess and you won't have spent all evening getting ready! You're welcome, and Happy Valentine's Day!
xox,
Andrea
I completed this look in exactly 24 minutes, how did it take you? What's the longest you're willing to take to get ready?