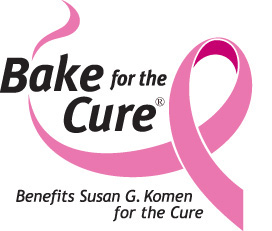 Recently, I received the honor of being asked to participate in a blogging version of Susan G. Komen's "Bake for a Cure."  I'm one of 20 bloggers who will be creating delectable baked goods centered around this worthy cause for the next 3 weeks.  Generous companies like Agro, Karo, and Fleischmann sponsored a "Get Started" pack which I received this past week, and also supplied a $50 Visa Gift Card for me to take the the grocery store with me.  Additionally, they also sent me a "Bake for the Cure" cookbook, which will be providing the inspiration for some of my recipes.
I'll provide more information about Bake for a Cure later – currently I'm so exhausted from being in the kitchen that I can barely see straight!  I will let you know a few key details right now.  For three weeks, I'll be posting 2 recipes.  One will be one that I came up with, and one will be my own twist on a recipe from the cookbook I mentioned above.  The other bloggers and I are competing for a $500 gift card to the kitchen store of our choice.  We win by receiving the most comments on our baking posts.  I know you ladies aren't much for commenting unless there's a prize involved, but I'd much appreciate you sharing thoughts and opinions on these posts so I have a shot at the prize!
"The Best Herb Bread Ever"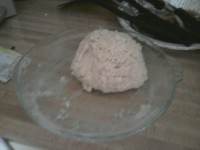 I love this bread so much that I made it twice, so the photos are from 2 batches.  The first loaf I ate entirely myself, so I made two this evening so that I'll have some to share.  It's based on the Bake for a Cure Recipe for Dill Bread.  Here's my recipe.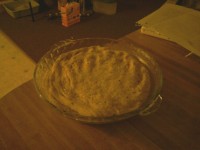 2Â  c All-Purpose Flour
1 Envelope Fleschmann's RapidRise Yeast
1/4 tsp Baking Soda
2 tbs Sugar
1 tsp Salt
1 tsp Garlic Powder
1 tsp Parsley
1 tsp Sage
1 tsp Rosemary
1 tsp Basil
2 tbs Butter
1/4 c Water
1 c Cottage Cheese
1 Egg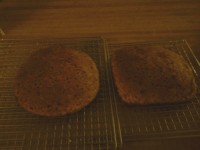 Mix 1/4 c flour, yeast, baking soda, sugar, salt, and herbs in a large mixing bowl.
Microwave butter and water until melted and very warm.
Add butter/water to dry mixture.  This is hard to do with an electric mixer unless it's a big stand mixer, so I do this by hand with a whisk or mixing spoon.  Stir until fully mixed.
Add cottage cheese, egg, and 1/2 cup flour.  At this point, I find it easier to mix the dough with my hands.
Add remaining flour to make a stiff dough.  It will be sticky, and you can add more flour as needed – the original recipe called for an amount of flour I couldn't get to blend into dough, so I'm still playing with this area!
Transfer dough to a well greased 1 1/2 quart casserole dish.  I've been using a big pie dish, so this is something you can experiment with too.
Let the dough rise for about 45 minutes in a warm, draft-free area – it will come close to doubling in size.
Bake at 350 degrees for around 40 minutes, until the top is completely golden brown.
Remove from the oven and let cool on a wire rack…Â  Or eat it all immediately, as I'm tempted to do!