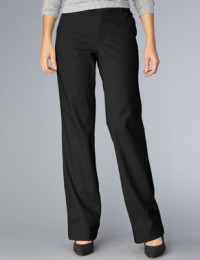 A few weeks ago, I made a list of my Fall 2010 Fashion Must-Haves.  In it, I mentioned that I was looking for some great slacks that would be versatile enough to wear to work and on my days off.  Since I first felt a light chill in the air, I've been scouring the racks of TJ Maxx and browsing my favorite websites for the perfect pair.
I'm not a big pants person, so Dockers is a brand that's new to me.  I've always heard good things and thought the pants looked nice in commercials, but never actually tried a pair on – until I found a pair of khaki sacks at TJ Maxx for $14.99.  They have a slimming panel in the front, aren't insanely long (I'm only 5'3″, so I do need them hemmed – but only a little!), and are a rich color.
In fact, I was so happy with my khaki pants that I checked out Dockers online.  They have several styles with their slimming technology, in a variety of cuts and colors.  I ordered Navy and Black to complete my Fall wardrobe.  While I didn't get the TJ Maxx deal of $14.99, both pairs were on sale for $35 (regularly $48).
I'm guessing that either the TJ Maxx pair had the style mislabeled, or else Dockers has tweaked the make.  I do prefer the Khaki version over the other two, although I'm pretty satisfied with all three pairs.  The two I ordered online do have a frequent lint-brushing requirement and don't hold their shape past one or two wears.  I've lost some weight recently, so I'm guessing this is part of the issue – I likely am about to require the next size down.  And with the Khaki pair…  Well, they're a little snug in the crotch.  I'm not really sure why, but it's a bit uncomfortable to go from sitting or standing on a frequent basis while wearing them.
Overall, I'm pleased with my Dockers Jaelynn Pant with Truly Slimming panels.  I do find them to be particularly flattering, the quality is high, and the price is reasonable – which is more than enough to help me overlook a little lint management!