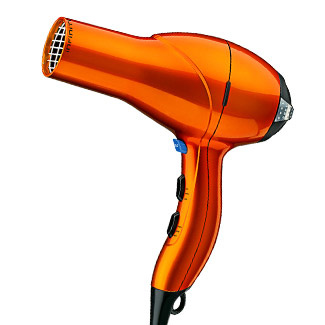 "Are you ready to take back the power?  Say goodbye to your hair Pro and hello to ours…  the new Infiniti Pro by Conair 1875-Watt Salon-Performance AC Motor Styling Tool puts salon-performance power in the palm of your hand!  The Infiniti Pro utilizes an AC (alternatinv current) motor, which is designed for hair stylists and salon use.  However this professional performance tool is 15 percent lighter than most AC motor dryers, making it easy to harness salon power at home."
For as long as I can remember, I've had the same blow dryer.  I got it at some big box store back in high school, when $20 was a big deal for me (okay, it kind of still is).  It's blue, weighs about ten pounds, and is so exhausting to use that I frequently clunk myself in the head with it.  Or, at least, I used to.  Conair graciously sent me the latest in greatest in the realm of blowdryers:  their Infiniti Pro
.
Right away, I fell in love with the orange shade – it totally brightens up my bathroom AND my morning routine.  I cannot put into words how much I love this blow dryer.  It put my old one completely to shame – I might as well have hired a senior citizen to blow on my hair every morning.  The Infiniti Pro practically blows the hair off my head when I set it on high, which I imagine is a setting intended for long hair.  Low gets my short hair dry in a snap, and adds volume without killing my hair's health or shine.
The AC motor is responsible for most of my hair drying pleasure.  Conair used this type of motor because it's powerful, but still has a powerful air velocity (which dries hair faster and lessens exposure).  The "Cold Shot" button provides a blast of super cold air, which helps set style and give roots life.  AND, the AC motor has a life span three times that of the usual (DC) motor.
Beyond the benefits of the AC motor, the Infiniti Pro also creates neutralizing ions that seal the hair cuticle – which reduces frizz and enhances shine.  My hair looks so much healthier and prettier now than it did with my old blow dryer.  Plus, it has 3 heat levels (which I appreciate greatly when it's sweltering hot), 2 concentrator attachments (to achieve a variety of styles), and a removable filter (to prevent lint buildup).
Contest Info:  Contest runs until August 25, 2010, 11:59 PM EST.  Giveaway is open to US Residents.  You must complete the Mandatory Entry before all extra entries will be counted.  Please leave a separate comment for each entry.
Mandatory Entry:  Tell me why you'd like to try the Infiniti Pro by Conair!
Extra Entries:
Fan Conair on Facebook – 1 Entry
Fan The Fashionable Gal on Facebook – 1 Entry
Follow Conair on Twitter – 1 Entry
Follow The Fashionable Gal on Twitter – 1 Entry
Subscribe to my newsletter – 1 Entry
Blog this Giveaway (leave a direct link) – 3 Entries
Add me to your Blog Roll – 3 Entries
Share anywhere else (i.e. Stumble, Digg) – 1 Entry per Location
Tweet using the following text – 1 Entry per Tweet, Max 2/Day (2 hours apart minimum)
#Win the new Infiniti Pro blow dryer from Conair (ARV $38.99) from @fashionablegal & @conair_hair!  http://wp.me/pbj1u-22V Please RT!