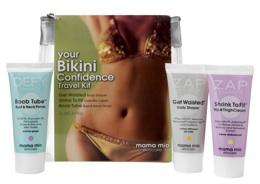 Hip Hip Hooray – It's Holiday time!
We have made a sweet little kit for you to pack on your travels. Your Bikini Confidence Travel Kit.
3 cute dinky tubes of our big performance bikini products – Get Waisted, Shrink To Fit, and Boob Tube. The perfect travel sized kit to pop in your bag and take your bikini confidence with you!
Contains:
Get Waisted Body Shaper 9 actives to flatten, firm and tighten tummy flab.30ml /1 fl oz
Boob Tube Bust & Neck Firmer for dive-in cleavage with a smooth, firm neck.30ml /1 fl oz
Shrink To Fit Cellulite Cream voted BEST cellulite cream by Elle Magazine.30ml /1 fl oz
The Bikini Confidence Travel Kit retails for an affordable $39 and is available online. The Fashionable Housewife and I both love Mama Mio products, so I highly recommend checking out this adorable little set!