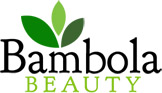 Faith Zelenko's beauty obsession started at the age of 18 when she attended beauty school. In her later years, she developed an interest in aromatherapy and essential oils which lead to a regiment of using natural skincare products. She worked for a cosmetic manufacturing company, was a retail beauty consultant and most recently worked with a QVC beauty maven. Faith passed her passion down to her only daughter, Kristine, who would graduate college and enter the world of beauty by landing a job at one of the largest cosmetic companies in the world.
Faith and her daughter have combined their years of unique experience to fulfill their lifelong dream.  Their dream has resulted in the launch of skincare brand Bambola Beauty, which combines a "strategy of blending natural and botanical elements with science to create a full line of natural skincare products for every skin type."  They worked tirelessly with a team of chemists and skincare professionals, and the result is a line of exclusive products that deliver big results.
I love the story of how Bambola Beauty was launched.  My passion for makeup started watching my mom getting ready to go out.  We still love to shop for cosmetics, discuss the products I'm reviewing, and give each other beauty related gifts.  In fact, one of my greatest pleasures in reviewing products is getting to take handfuls of shiny new "toys" to my mom when I visit her.  Because of this, I'm endeared to Bambola Beauty before I even began checking out their products!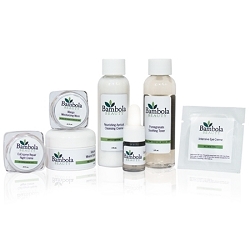 Faith Zelenko contacted me and offered me the opportunity to review Bambola's "Get Acquainted Kit" (an $89 value that retails for $75).  I'm constantly on the search for the Next Big Thing in skincare, so I was excited to check out this selection of fresh on the market products.  The Get Acquainted Kit contains basically every product that the average woman needs in her skincare routine.
– CoEnzyme Repair Night Creme .25 fl. oz. (can be used for daytime)
– Mango Moisturizing Mask .25 fl. oz.
– Volcanic Mineral Scrub .5 fl. oz.
– Nourishing Apricot Cleansing Creme 2 fl. oz.
– Vitamin C Extreme Serum .25 fl. oz.
– Pomegranate Soothing Toner 2 fl. oz.
– Intensive Eye Creme 2g
It comes in a cute clear plastic case with a card that explains all of the products (instructions for use and ingredients).  The kit is intended for Normal to Dry skin, which I had to keep in mind while using it on my combination skin.
The Nourishing Apricot Cleansing Creme was the first product I tried – you've gotta start with a clean face!  The first thing I noticed was the heavenly apricot scent.  The smell wasn't artificial or overwhelming; rather, it was a light, natural fruity scent that made the cleanser a pleasure to use.  I found that the cleanser worked best on the days where my skin was drier, but didn't cut through the grime completely on very oily days (remember that this IS meant for normal/dry skin).
The Vitamin C Extreme Serum and Pomegranate Soothing Toner were great follow ups.  The Vitamin C Serum caused a gentle, pleasant tingling when I applied it.  The serum has "substantial anti-oxidant benefits this serum hydrates and replenishes dehydrated, mature or sun damaged skin" and it "combats visible premature aging by fighting destructive free radicals."  These are important benefits, particularly for older skin.  The toner lives up to its title of being "soothing" – it helps calm my skin after a shower and cleans away any remaining bits of product.  The smell is equally wonderful to that of the Cleansing Creme as well.
The CoEnzyme Repair Night Creme didn't work extremely well for my skin.  It tends to get more oily as the day progresses, so a cleanser that leans towards drier skin isn't quite what I'm looking for.  It works better for me in the morning when I wake up with dehydrated skin – and once again, I love the smell!  The colors in this kit are very pretty, in a range of citrus shades, that make them visually appealing.
The Intensive Eye Creme comes in a tear-top envelop, which isn't my favorite thing ever.  I don't like using products that can't be resealed, so while this may have lasted a whole week, I only used it twice.  The Intensive Eye Creme addresses the special needs of the "Eye Zone," which is prone to visible signs of aging.  It includes ingredients like Organic Marshmallow Extract, which increases circulation and reduces dark circles around the eye.  Calming ingredients like Organic Calendula, Sea Buckthorn, and Organic Sunflower that refresh and encourage elasticity and smoothness.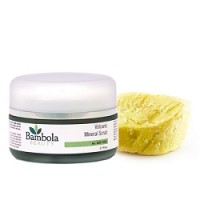 The Volcanic Mineral Scrub and Mango Moisturizing Mask are the special treatment products included in the kit.  I love scrubs – they work really well when I've been wearing I'm inordinate amounts of makeup or have been testing heavy products.  Plus, they cut through that oil I keep mentioning!  The Volcanic Mineral Scrub is no exception, and has definitely earned its place in my shower.  The Mango Moisturizing Mask "revitalizes while enhancing skin condition and restoring natural suppleness, elasticity and softness."  It features Mango Butter, which is rich in Vitamin C, and Seaweed Extract.  The combination rejuvenates and gently moisturizes dry, devitalized skin.  It also contains Salicylic Acid, which gently exfoliates dead skin cells and reveals the fresh, healthy skin underneath.
Overall, I really enjoyed this kits.  The products were visually appealing, smelled great, and had a definite positive impact on my skin.  The Get Acquainted Kit is a wonderful way to sample Bambola Beauty's products and discover which work best for you.  Bambola Beauty is generously providing one of you ladies with a Get Acquainted Kit of your own, so you can see how Bambola works for you!
Contest Info:  This contest will run until July 5th, 2010, 11:59 PM EST.  You MUST complete the Mandatory Entry for all extra entries to count.  Please leave a separate comment for each extra entry.
MANDATORY ENTRY:Â  Visit Bambola Beauty and tell me a product you'd like to try that's NOT included in the Get Acquainted Kit!
EXTRA ENTRIES:
Subscribe to Bambola's Mailing List – 1 Entry
Subscribe to my mailing list (top sidebar) – 1 Entry
Follow @BambolaBeauty on Twitter – 1 Entry
Follow @FashionableGal on Twitter – 1 Entry
Fan Bambola Beauty on Facebook – 1 Entry
Fan The Fashionable Gal on Facebook – 1 Entry
Share any way you can think of (i.e. Facebook, Digg, Stumble) – 1 Entry per Location
Blog this Giveaway (leave a direct link) – 3 Entries
Tweet using the text below (max 2/day, min 2 hours apart) – 1 Entry per Tweet
#Win a @BambolaBeauty Get Acquainted Complete Skincare Kit (ARV $75) from @fashionablegal http://wp.me/pbj1u-1Xh