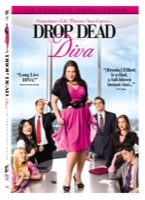 Drop Dead Diva Season 2 premieres this Sunday (June 6) at 9PM/8C and I CANNOT WAIT!  Drop Dead Diva is a hysterical, poignant, interesting show that genuinely sparks and keeps my interest and attention.  I love TV and have quite a few of "my shows" so for a new one to make the cut, it's got to be good.  DDD is not only a must see for me, but it's an absolute favorite.  I've been waiting for Season 2 to start, and am going to watch all of Season 1 in order to refresh myself on the storyline and prepare for the new drama!  Whether you're looking to refresh your memory, or if you've missed out on Drop Dead Diva altogether – today's your lucky day!  One lucky reader is going to score Season 1 on DVD!
Synopsis:  Life can really throw you curves — especially in this breakthrough Lifetime TV comedy! After beautiful-but-vapid model wannabe Deb (Brooke D'Orsay) has a fatal car accident, she finds herself in the body of the recently deceased Jane Bingum (Brooke Elliott), a brilliant plus-size attorney. By a twist of fate and a bolt of divine intervention, Deb can no longer rely on her fabulous looks to pull her through. Now, the new Jane must confront the challenges of her adventurous new life, love and career — as well as her curvier frame — in the ultimate showdown of brains and beauty.
DVD Special Features:
* Dreamisodes
* Deleted Scenes
* Rosie's Rap
* Dropping in with Drop Dead Diva
* Cho and Tell
Starring:
* Comedian Margaret Cho
* Brooke Elliott
* Brooke D'Orsay
Guest Appearances include:
* Rosie O'Donnell
* Paula Abdul
* Tim Gunn
* Liza Minelli
* …and many more!
CONTEST INFO:  This giveaway will run until June 10th, 11:59 PM EST.  It's open to US Residents only, and winner MUST have a NON PO-Box address!  You must complete the Mandatory Entry for all extras to count.
MANDATORY ENTRY:  If you watch DDD, share your favorite thing about the show.  If you've never seen it before, tell me the name of your favorite TV show!
Extra Entries:
"Like" Drop Dead Diva on Facebook – 1 Entry
"Like" The Fashionable Gal on Facebook – 1 Entry
Follow @fashionablegal on Twitter – 1 Entry
Blog this Giveaway (leave a direct link) – 3 Entries
Add me to your Blog Roll – 3 Entries
Share this anywhere you can (ie Digg, Stumble, etc.) – 1 Entry per Location
Tweet using the following text – 1 Entry per Tweet, max 2/day (please space by at least 2 hours)
Win Drop Dead Diva Season 1 on DVD from @fashionablegal – http://wp.me/pbj1u-1QR Ends June 10th!