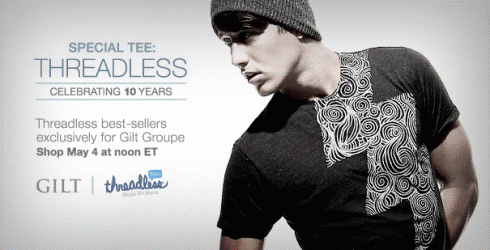 Gilt Groupe and Threadless are excited to announce their first collaboration, available only on Gilt, Gilt MAN and even Gilt Kids!
For the first time EVER, Threadless will sell t-shirts beyond its community, debuting an exclusive, limited edition reinterpretation of some of their timeless best-selling designs.
Unlike any other t-shirt company, Threadless holds an ongoing open-call for t-shirt submissions from a worldwide community of amazing artists and designers. Once submitted, a community of over one-million members cast votes that help decide which designs become Threadless t-shirts.
Their in-house creative team worked to create these exclusive tees with a soft vintage feel, which have been sourced specifically for Gilt. So be sure to check-out the sale!
If you're not already a member of Gilt, you're officially invited!  Click this link and sign your pretty self up so you can shop this fab sale!  The sale will start at noon and I bet the merch will sell out fast, so hurry!