Fantasy Jewelry Box has generously offered to sponsor another giveaway here on The Fashionable Gal!  The last giveaway was quite popular, and I know getting to select your own prize is a thrill – so if this giveaway is a big success, I'll be hosting one every other month.  Which means you should make sure to not only enter yourself, but send your friends this way too!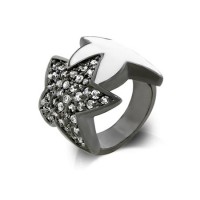 Fantasy Jewelry Box is my go to place for celeb jewelry matches and hot new pieces that correspond with the current trends.  The company was generous enough to let me snag a piece for review and I selected Jessie's Black CZ & Enamel Rock Star Ring (pictured above, on sale for $31.95).  I've been wearing a lot of cotton summer dresses, which are gentle and sweet.  Sometimes that's what I'm going for, but often I like to toughen up or change the look with the use of accessories.  The Rock Star Ring is one of my favorite go-to pieces.  It also works for night looks and adds pizazz to a simple jeans and tee combo.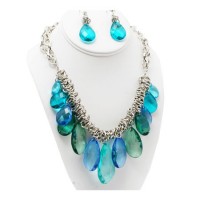 Another favorite way to add flair to simple summer looks – since accessories are much cooler than extra layers – are funky necklaces.  An inexpensive cotton dress from Old Navy becomes a sizzling evening look with just a few tweaks.  Cassidie's Blue Crystal Teardrop Necklace & Earrings ($43.95 for the set) are perfect for a night at a steamy club or a tropical vacation.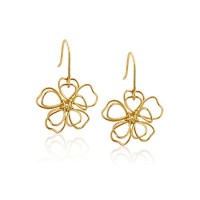 Kalita's Gold Wire Wrapped Flower Earrings ($21.95) are another top pick for the summer.  They're perfect for the whole day – wear them from lunch to the beach to a night out without worry.  I'd also suggest them as a great gift for any of your gal pals with summer birthdays!  They look handmade and expensive but retail for just over twenty bucks – what a steal!
WIN IT:  Fantasy Jewelry Box is offering one Fashionable Gal reader her choice of any item from the site priced at $35 or less.  That includes TONS of options in every jewelry category, so choosing will be quite the adventure!  This giveaway ends June 9, 2010 at 11:59 PM EST.
MANDATORY ENTRY:  1 Entry – Subscribe to Fantasy Jewelry Box's email newsletter.  You'll receive info about new products, as well as coupons and deals!
Extra Entries (Please leave a SEPARATE comment for EACH):
1 Entry – Check out the selection at Fantasy Jewelry Box and tell me which item is your favorite!  It doesn't necessarily have to be the one you'd choose if you won, so it can have any value.
1 Entry – Fan Fantasy Jewelry Box on Facebook
1 Entry – Fan The Fashionable Gal on Facebook
1 Entry – Follow @FantasyJewerly on Twitter
1 Entry – Follow @FashionableGal on Twitter
1 Entry – Subscribe to my newsletter (box on sidebar)
5 Entries – Blog about this giveaway and leave a direct link.
3 Entries – Add me to your Blog Roll and leave a direct l ink.
Tweet this giveaway.  1 Entry Per Tweet, Per Day!  Use the following text:
#Win a piece of jewelry *WINNER'S CHOICE* from @FantasyJewelry & @fashionablegal http://wp.me/pbj1u-1Q8