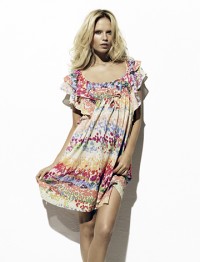 "The Garden Collection by H&M is made with environmentally adapted materials like recycled polyester, organic cotton, and organic linen.  By choosing these garments you contribute to a more sustainable world."
H&M's Garden Collection is everything I want Spring to be.  It embodies the fabrics, textures, colors and prints I want to be wearing right now.  I'm dying for an H&M to open closer to me, as I'm HOURS from the nearest location.  That puts a little damper on all these gorgeous Spring blossoms, no?
Of course, I brighten up again when I look at the prices.  Most pieces are in the $12 – $30 range, which is about as much as a bouquet of flowers.  Very affordable, very chic, very pleasing.  Not all the pieces below are entirely wearable, so consider those items eye candy.  Or perhaps you're the time of person who can plausibly wear floral capri pants – but if you're eagerly nodding yes, do take another look in the mirror before heading out.  I'm suspicious.
Below are some of my favorite pieces from the collection.  All images are courtesy of H&M and have been provided by the company.  For more information on the collection and to find your nearest H&M, check out their website.