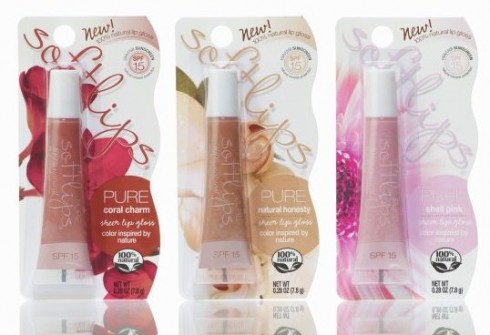 Softlips Pure 100% Natural Lip Gloss
"A tube applicator that provides natural, glossy color with high shine in three shades – Shell Pink, Natural Honesty, and Coral Charm – with natural seed oils and beeswax and provides hydrating SPF 15 protection for dry lips with zinc oxide.  Suggested retail value of $4.99."
These glosses are just one more reason to love Softlips.  They're hydrating, buttery, and not at all sticky.  They impart a soft wash of color without being overpowering, which makes them a great daytime option.  And if you're not a lipgloss or colored lip product kind of gal, these are a wonderful way to transition into wearing a hint of color.  Softlips sent me all three colors and while they're all gorgeous, Coral Charm is my favorite!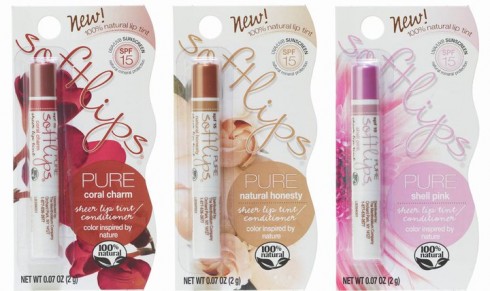 Softlips PURE 100% Natural Lip Tint
"A balm/stick applicator that provides sheer, tinted color in three shades – Shell Pink, Natural Honesty, and Coral Charm – with beeswax, coconut oil and other natural ingredients and provides hydrating SPF 15 for dry lips with zinc oxide.  Suggested retail value of $3.99."
These are just like the normal Softlips lip balms – except of course that they're 100% natural and have a tint.  In terms of rich formula and smooth, hydrating formula, they're just as great as the Softlips products you already know and love!  The gentle tinge of color they add is another bonus.  I love all the colors offered and I hope they range continues to expand!  These three colors cover a very wide range of skin tones, which make them great base colors for the line to start with!
Thanks to Softlips for letting me review these fab products!  I am a Softlips gal for life!
All the new Softlips products are available through Target.  For daily contests and updates on new Softlips products, make sure to fan them on Facebook.