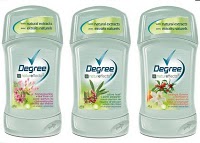 This is it – the post you've been waiting for!  Here's the dirt on the new Degree Natureffects line of products!
Infused by Nature:
"For nature-infused fragrances and 24-hour wetness and odor protection, Degree introduces Degree Women Natureffects.  The new product line features three new deodorants each with a matching body mist that work together to infuse a touch of nature in every woman's daily routine.
Designed by world-renowned fragrance expert Ann Gottlieb, 'the nose' behind many of the most successful and prestigious fragrances, the scents are inspired by nature and incorporate fragrance ingredients known to fight odor.  Degree Women Natureffects provides exceptional protection in three vibrant scents:  Honeysuckle & Tea Tree Oil, Olive Leaf & Pink Pepper, and Orange Flower & Cranberry.  The Degree Women Natureffects Collection is available nationally at mass market retail stores with a suggested price of $3.99."
As a reminder, I previously shared the statistics (provided by Degree Women) that 81% of women say that nature improved products improve their mood and 75%say nature inspired fragrances make them feel happier.
Honeysuckle & Tea Tree Oil:  Tea tree oil is renowned for being a natural deodorizer, while honeysuckle and tea tree oil are refreshing and provide a great natural scent.  I love the sweet, gentle fragrance of this blend.
Olive Leaf & Pink Pepper:  Pink pepper is another natural deodorizer, and olive leaf & pink pepper are both energizing scents.  This is my favorite blend, as it's sweet with a touch of spice.
Orange Flower & Cranberry:  Orange Flower is the deodorizer in this blend, while cranberry is an uplifting scent.  Again, I enjoy this scent – it's a really neat combination of scents that work well together.
My thoughts:  I'm very hesitant to branch out from my normal deodorant, as I have very sensitive skin.  Often, new blends of deodorants cause breakouts in my underarm area, which is both uncomfortable and embarrassing.  However, the fabulous scents of these new Degree deodorants (all are winners in my book!) lured me in.  I've been using them for over a week now with no skin irritation, so I'm quite pleased!  I tested them through normal days and heavy exercise routines, and suffered no unsightly wetness or unpleasant odor.  The only issue I had was that I did get some faint deodorant marks on a black tank top one evening.
The body sprays are another favorite.  I've been wearing them in place of perfume and I love the soft hint of fragrance they provide.  These are great blends for work and school, where you'll be in close quarters with people who many be sensitive to fragrance.  People will know you smell good, but since the scent isn't strong, they won't realize it's not just how you smell!  It's like having a little secret, which is a mood booster in itself.  For extra refreshment, stick these body mists in the fridge and spray them on after a shower or a long, hot day – they're a great pick me up during the summer!
At $3.99, the entire collection is incredibly affordable.  Of course, I love extra savings – and I know you gals do too.  So, just log on to the Degree Women Natureffects website for a $1.00 off coupon!
For more updates and new from Degree Women, I suggest fanning them on Facebook.