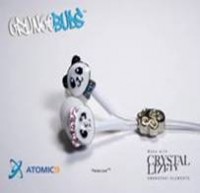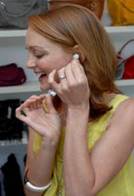 "Grunge Buds, the Swarovski enhanced headphones from Atomic 9, are the latest techie must-have to hit the market.  With top quality speakers, noise isolation and microphone with one-touch capability, Grunge Buds are a fresh upgrade from your typical boring headset.
Their high-end speaker drivers allow for extremely dynamic range and sound (think of subwoofers for your headphones) and are designed with soft, comfort-fit earpieces that block out noise.
Featured in unisex designs such as edgy skulls, Harajuku-inspired pandas and crystal cats, you're bound to find a way to express yourself.  Compatible with all your techie toys including the iPhone and MP3 players, the earphones can turn your iTouch into a phone with the press of a button.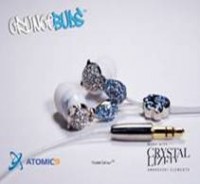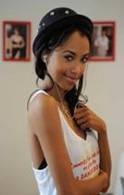 With Grunge Buds, you not only get an incredible pair of earphones with multiple capabilities, but a fierce way to make a fashion statement guaranteed to turn heads everywhere you go!"
I'm pretty sure I'm the last person in my generation to acquire an iPod.  Last week, I finally realized that borrowing my boyfriend's wasn't a sustainable option and purchased my own Nano.  On a side note:  his was an iPod touch.  Mine is not.  This doesn't stop me from repeatedly jabbing the screen in public, and then becoming obviously confused when the track doesn't change.  It's awkward.
Anyway, now that I have an iPod, I obviously need headphones.  I'm sensitive about my ears, which makes me wary of "buds" like these – they seem like they'd be uncomfortable for even brief wear.  The Grunge Buds I received for review (the adorable cats pictured above) fit comfortably in my ear and don't bother me in the least.  There are three sizes of silicone fittings included, to ensure everyone a proper fit and a comfortable experience.
The sound quality is great, and of course, the Grunge Buds are visually appealing.  There are some really cool styles available, including my favorite, "The Valkyrie."  Each style retails for $39.99 and is available through Atomic 9 online.  There are currently eight styles available and I hope to see the collection expand!